Working on Elliot's nursery has been a very fun project. It's so nice when something that has been in your head finally comes together in reality. I'll be sharing a final reveal of the whole room soon. But in the mean time I thought it would be fun to break things down and talk about some of the projects I've been working on for Little Man's room.
First up is this vintage dresser! In every room I like to incorporate some new items and some vintage items. I think it makes the room look more cozy and not so matchy-matchy.
Isn't she a beauty? (Ha! Kidding!) Also, drawers were included, don't worry. This is unfortunately the only "before" photo I can find of the whole dresser.
I scored this vintage midcentury dresser on Craigslist for about $25. It's solid. It's got very simple, clean lines. It was just a little rough around the edges.
There were tons of nicks and deep scratches, mostly on the top of the dresser. But that's something a little bit of sanding took care of. And when I say a "little bit", I mean it took me about an hour to sand the whole outside of the dresser down to get those deep scratches out. It wasn't necessarily quick but it wasn't a whole day ordeal either.
Here's what the dresser looked like after a good sanding with my orbital sander.
I was originally going to paint the whole thing white (per usual) but Max talked me into keeping the wood showing on the outside so that it would look more masculine. I prepped the outside of the piece with wood conditioner, stained with Minwax wood stain in special walnut, and then sealed with three coats of polycrylic in clear satin just to give a hint of shine and protect the finish. I prefer using polycrylic instead of polyurthane to seal furniture because it's water-based and so much easier to clean up. I also find that there are less fumes.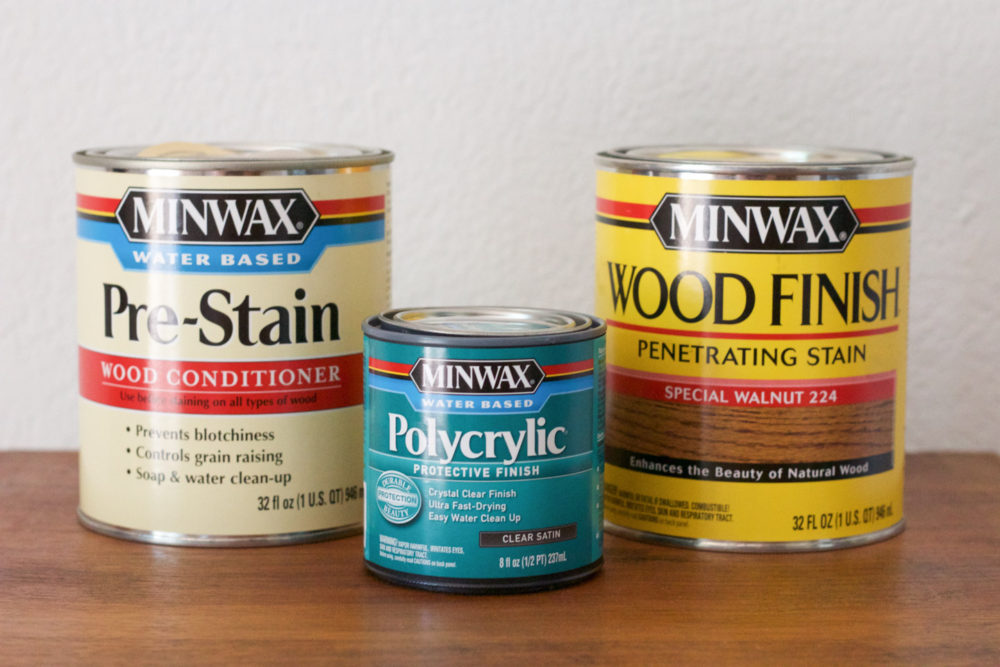 Then it was time to do the drawers. These were not in nearly as rough of shape as the outside of the piece, so there was no need for the orbital sander. The drawer handles are also built-in to the front of each drawer so I didn't want to use the sander and risk ruining the handles by nicking them up too bad. Instead, I did a light sanding by hand with my 220 grit sanding block. Then wiped them down with a tack cloth to make sure they were clean and no dust remained.
Then on to painting! When I was at the hardware store I saw you could get lacquer spray paint and thought I would give it a try. Usually I use a roller to paint furniture. But spraying always gives a much smoother finish. I also picked up a handy spray paint grip attachment to prevent finger cramps. It worked so well! Highly recommend it.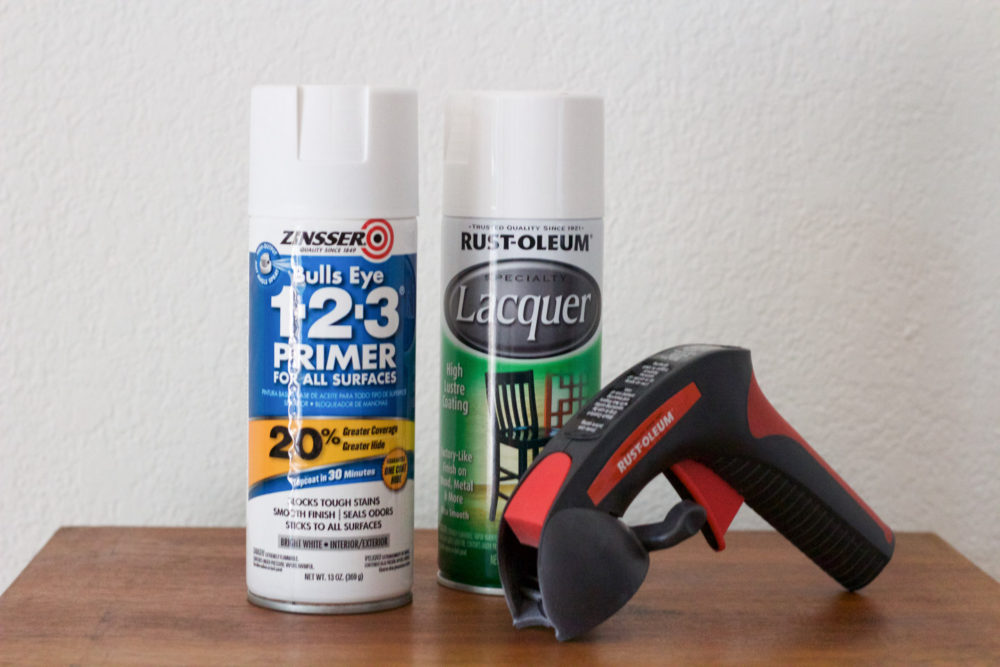 The tedious part was prepping the drawers for painting. With newer dressers you can usually take off the drawer fronts. But this dresser is older (probably from the 1960's) and has dovetailing on the sides (which I love!) so the fronts cannot be removed. I used paper and painters tape to tape off all around each drawer so that only the fronts would be sprayed. It took a long time to prep. But the drawers look very clean and it's so nice to not have any overspray on the sides or inside the drawers.
I then primed each drawer and painted with three light coats of the lacquer spray paint. I will admit that I got lazy and didn't sand between coats like I should have. So the drawers are not as shiny as they should be with a lacquer paint. But that's ok, because I didn't want a super shiny look anyway. The finish is still nice and smooth.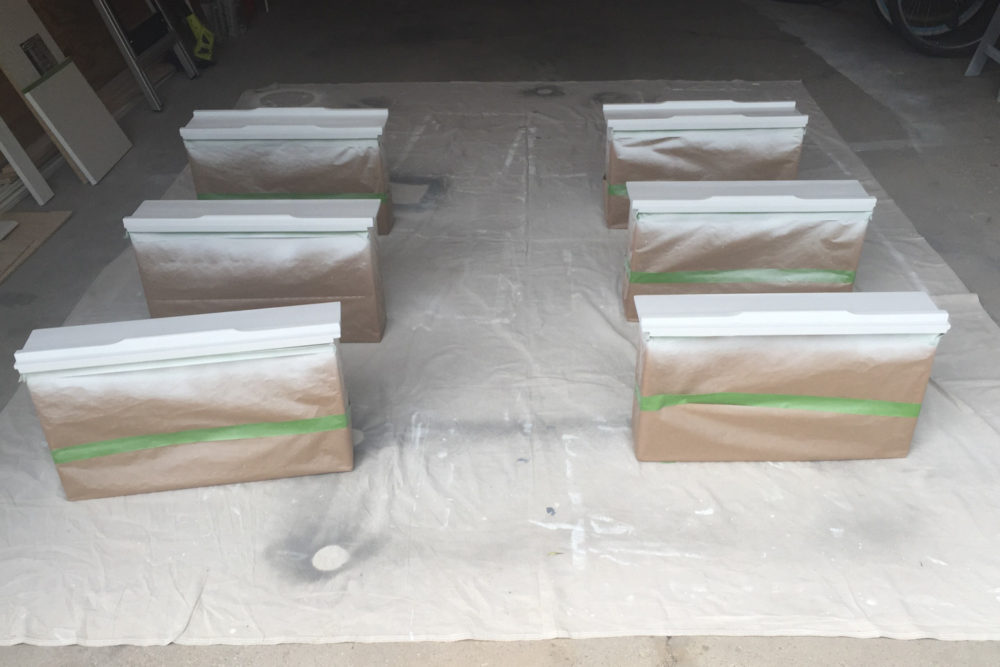 I then added some contact paper inside to line the drawers. I like to do this because it keeps things clean and if spills happen inside the drawers it's very easy to wipe out the inside. It's also a fun surprise to see some color when you open the drawer. The only issue I have is finding fun contact paper. I always have to order online for this because there is never a good selection when I go to my usual craft stores.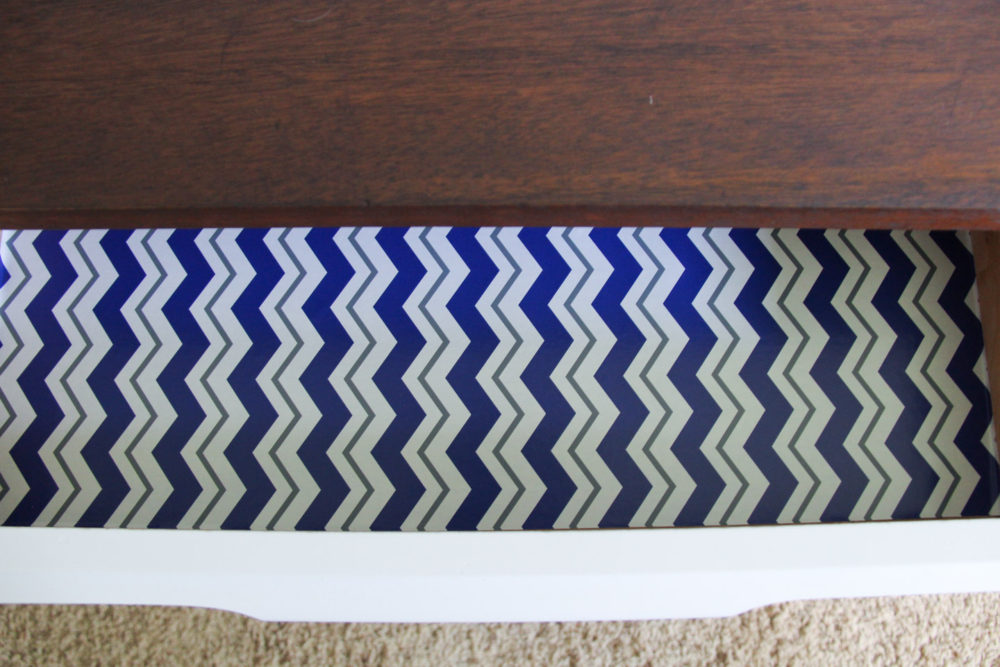 The final step to make this an actual changing table was to add a changing kit to the top of the dresser. It was very easy to attach. The back portion of the kit hangs over the back of the dresser and you simply drill three screws through the kit into the back of the dresser. This secures the changing kit very well and insures that the changing pad will not move.
I love this kit because once Elliot no longer needs the changing table I can simple unscrew the kit and just use the dresser! I think this make much more sense than buying a whole changing table that won't last very long.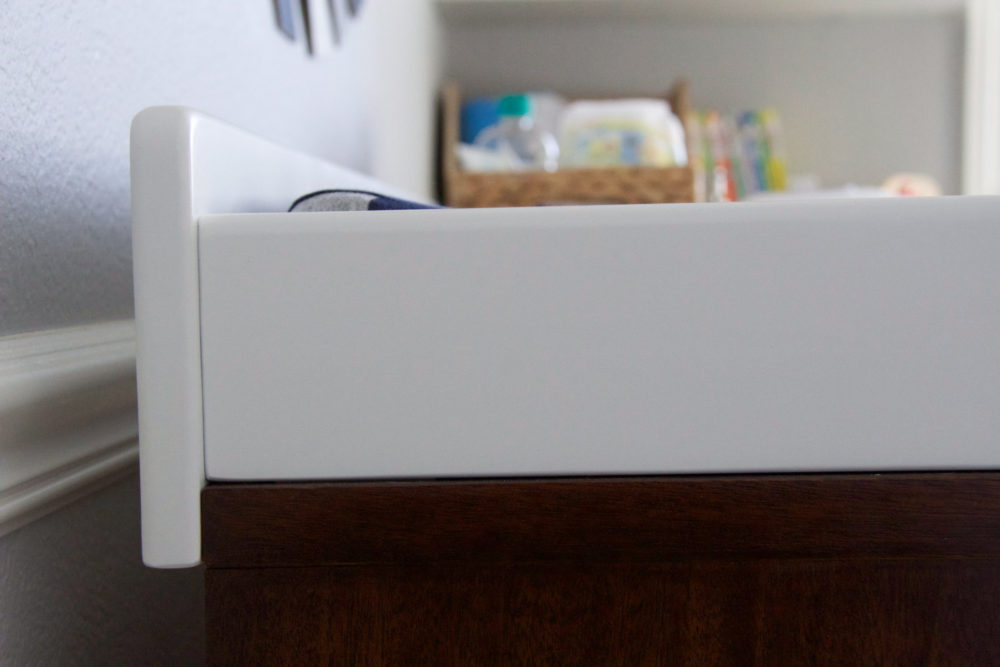 And here's how the dresser turned out once everything was attached and the room was decorated.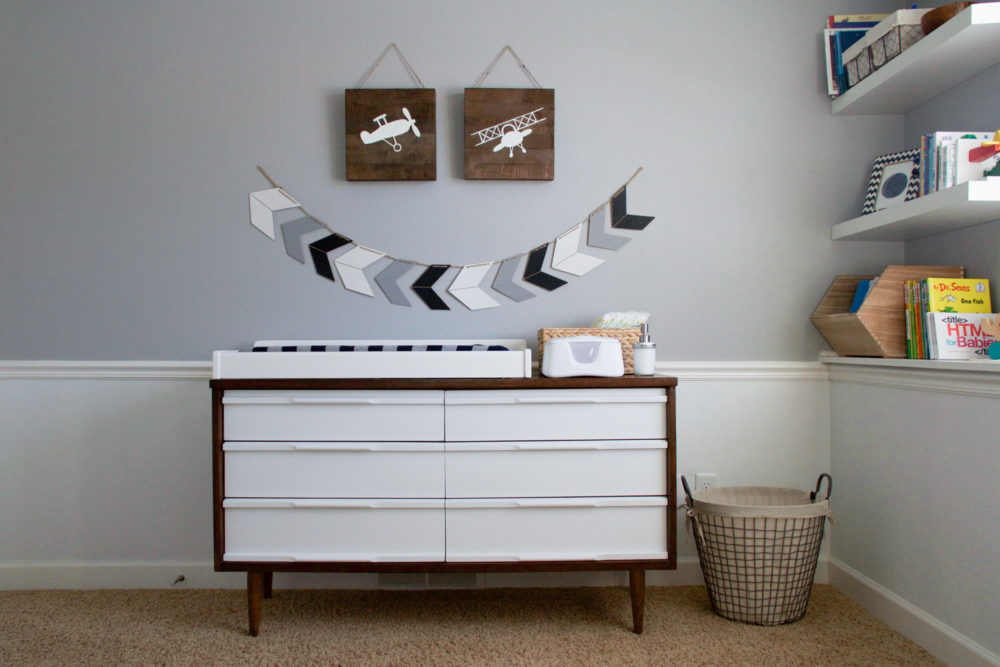 And now for the before and after!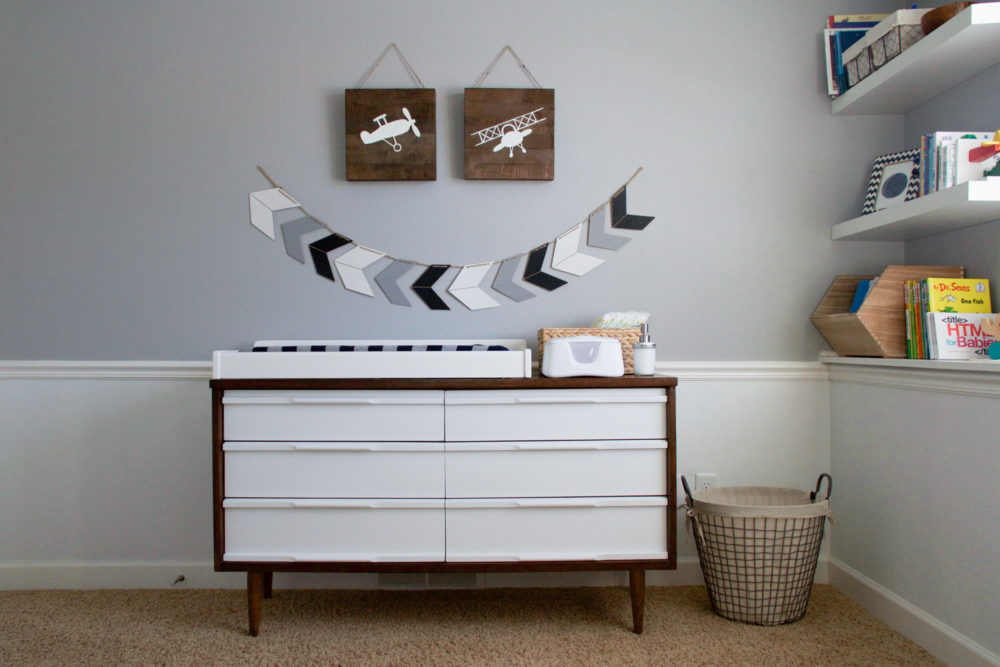 All in all I think this was a successful budget re-fresh. West Elm is selling a very similar dresser right now for $899! Just sayin'. 🙂
Tools & Supplies Used:
Bosch random-orbit sander | Sanding block – 220 grit | Tack cloths | Minwax wood conditioner | Minwax wood stain – special walnut | Minwax polycrylic – clear satin | Zinsser bulls eye 1-2-3 primer | Rustoleum lacquer – white | Spray paint comfort grip attachment | Contact paper – similar (blue chevron discontinued) | Changing kit | Changing pad | Changing pad sheet