This post has been a long time coming. But I'm happy to report that we are finally "done" with Elliot's nursery! I say this in quotes because I'm constantly tweaking rooms. So nothing is ever really done done. But generally speaking the little man has the only "finished" room in our whole house right now. Lucky guy!!!
But let's back up a bit a show you what the nursery looked like before.
When we first moved in this room had obviously been designed for a baby girl. Max liked to call it the Neapolitan room because of the strawberry pink and chocolate brown paint on the walls along with the white (vanilla) trim.
For the first few months that we lived in our house this room was mainly used as a dumping ground. We put all of our unused furniture in here and other odds and ends that hadn't made it to Craigslist or down to the basement for storage.
When we found out last year that we were expecting we decided this was the room that would work best for the nursery. Since we couldn't find out the gender right away (they're usually able to tell around 16-20 weeks) I decided to paint over the brown paint on the walls first before tackling the pink.
And let me say, that brown paint was horrible to mask! It took about 3 coats of primer plus two coats of white paint to cover everything up.
Then once we found out the gender (a boy!) I decided to paint the pink upper portion of the walls gray (March Wind by Sherwin Williams). Max actually has the same color gray in his office downstairs and it looks very nice so I decided to stick with the same color. This gray is a great neutral color and I thought it would look good with a variety of accent colors. It's not too dark and is actually very calming.
Then it was time for the fun stuff: furniture! We moved in the crib and rocking chair. And I made a very simple side table with hairpin legs. I found some very cute cloud crib sheets and I think that's mainly what pushed me over the edge to pursue an airplane theme for this room.
I also refinished a vintage dresser and made it into a changing table. The airplane art was a handmade gift from my sister. I originally hung it over the changing table but it has since moved. I thought the combination of the art and arrow garland looked way too much like an insane smiley face and it was creeping me out. Told ya, I'm always changing things up!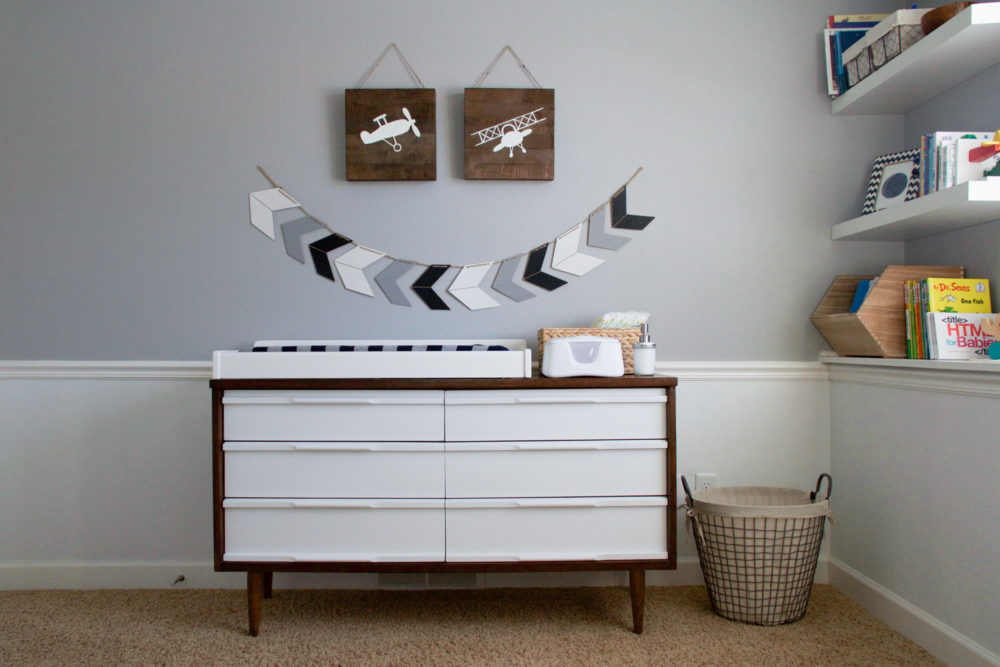 Some simple wood shelving was later installed above the rocking chair. We had some extra pieces of wood that we kept when we ripped out the pony walls in our living room. So I sanded those pieces down and stained them to match the side table and dresser. Then mounted them to the wall with brackets. Easy peazy.
And after hanging some more art and re-arranging things a bit here's what the room looks like now!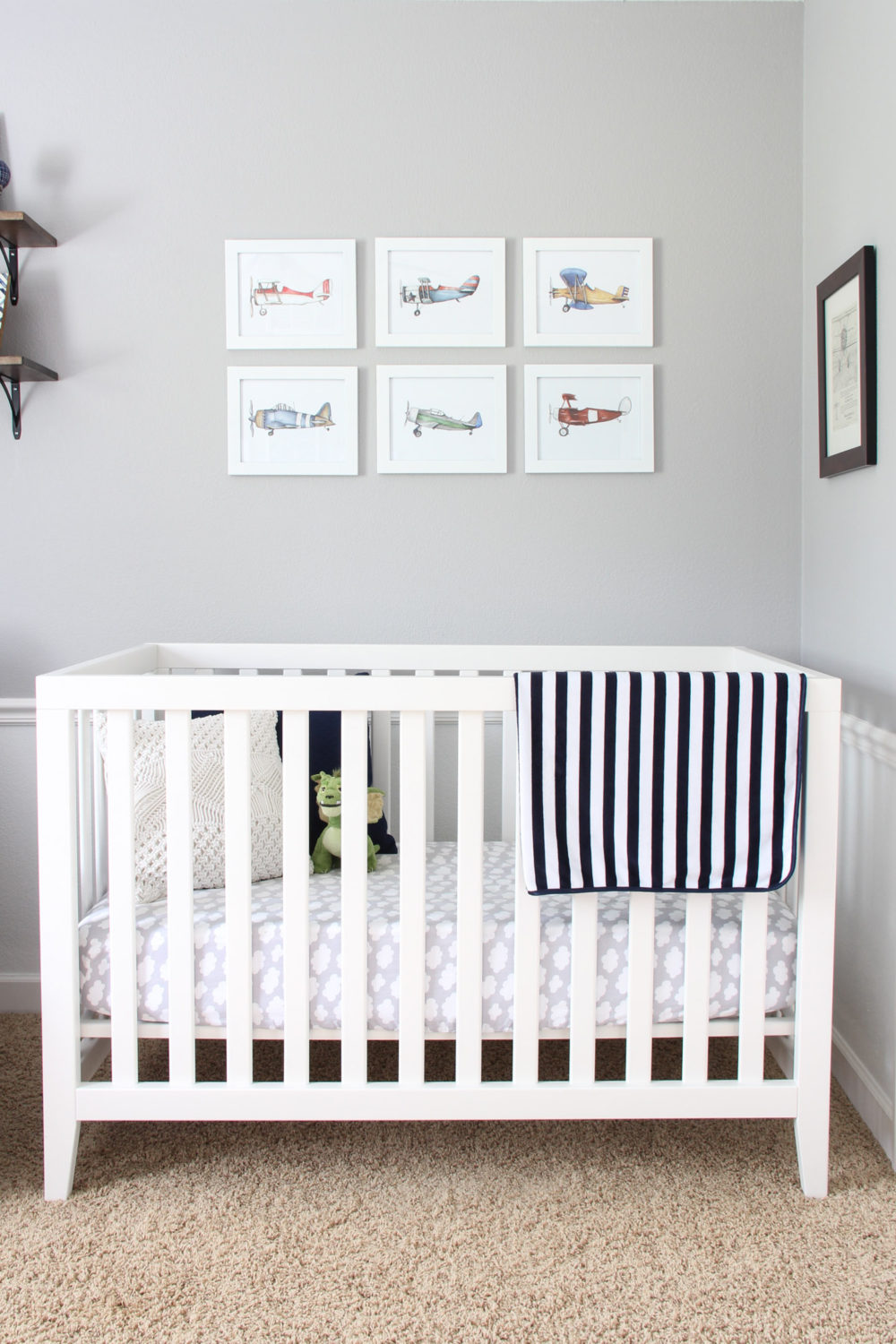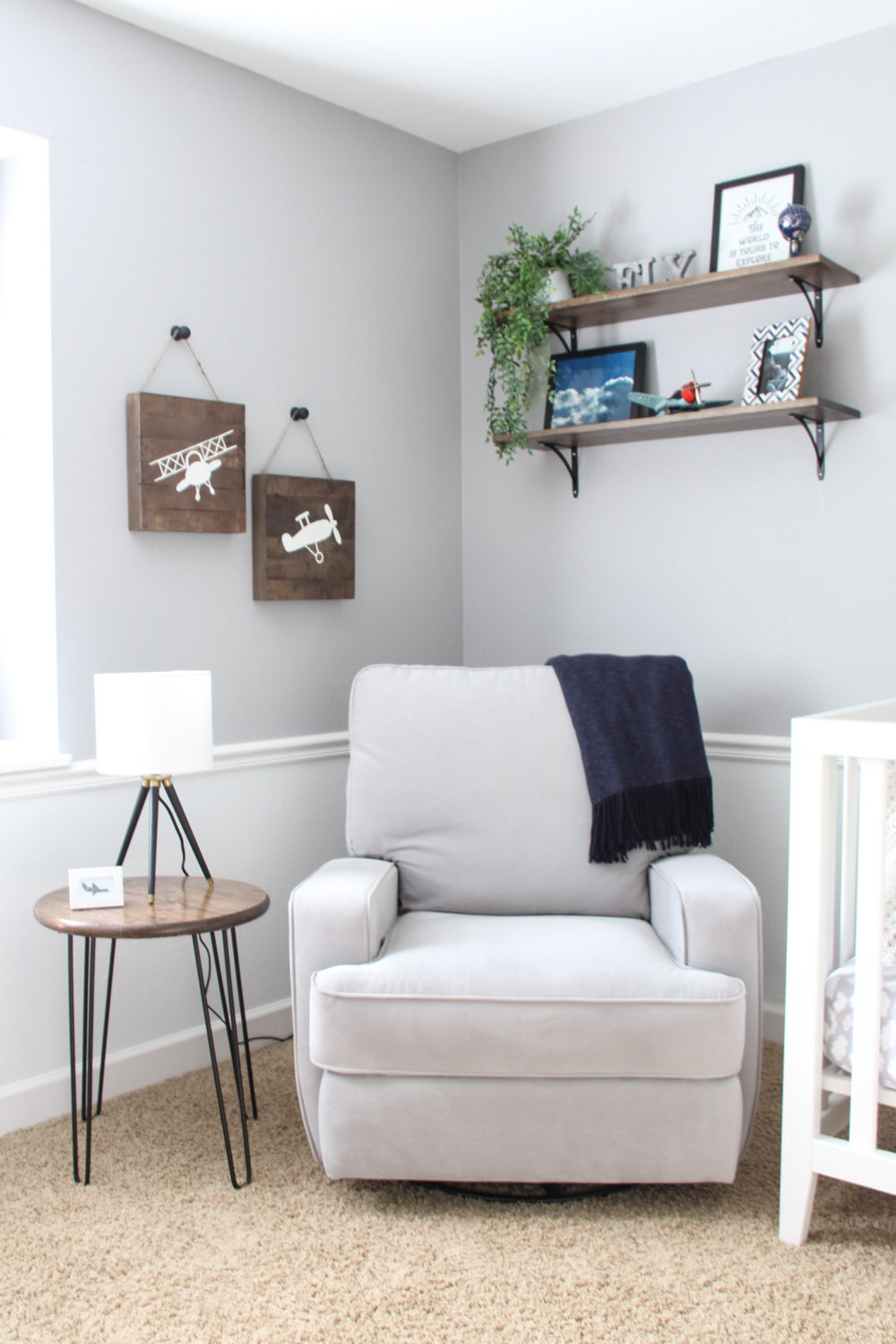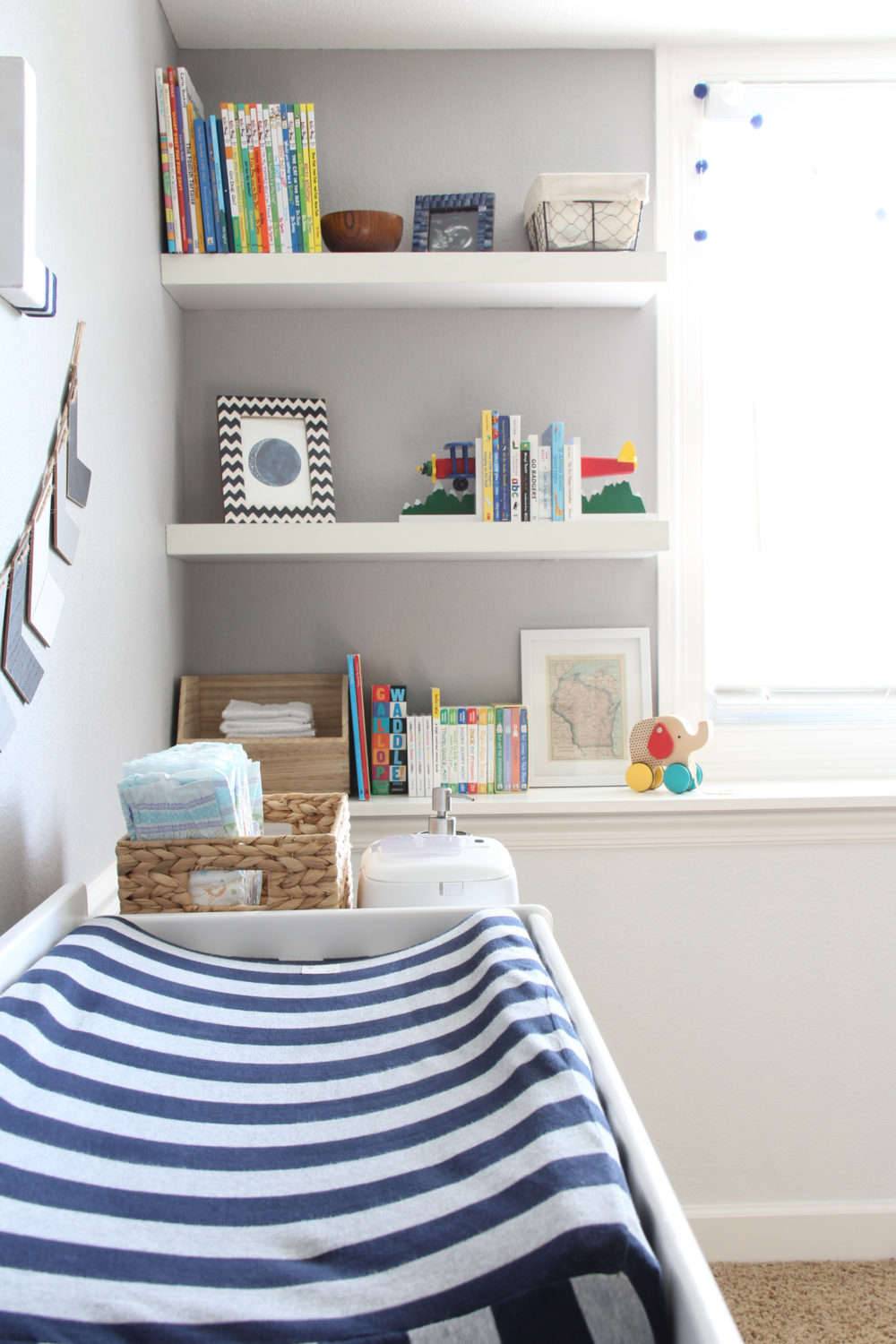 Shop the look: