Well, hello there! It's been awhile. I decided to stop blogging for a bit because, well, I had a baby (evidence: his nursery)!
But now that Elliot is a little older, I am finally finding a routine and am beginning to feel more like myself. Plus, spring time in Wisconsin is always an inspiring time of year. Winter drags on a little too long for my liking. But once we get a hint of warmer weather I begin to feel much more motivated.
Unfortunately, many of my projects have to be put on hold in the freezing, winter months. And while it did snow last night (seriously, snow in April!), we were getting the occasional 40 degree day once in awhile around here. Those nicer days make me want to re-finish all the furniture pieces I've been hoarding all winter long. I'm feeling ready to GET THINGS DONE!
This is my first time participating in a One Room Challenge. But I figured now would be a great time to resurrect this lil ole blog of mine and start putting the house back together. I'm a person that needs deadlines. Otherwise projects can drag on and on forever. So I think this is a great way for me to challenge myself (aka trick myself) into finishing a space around here.
And what space is that you ask?!
Well, it seems like the only rooms (and things) I've been getting done around here are for my kiddo. I figured this time around we should do something for ourselves. For this One Room Challenge I'm going to finish our master bedroom!
Before
Here is what the bedroom looked like before.
After we moved in we immediately painted the walls white, threw in some old furniture, and made do with it for awhile.
Then almost 2 years ago we ripped out the carpet and had laminate floors installed! And that made a huge difference. Well, that and the king size bed that we upgraded to. And the room has been looking this way for awhile now.
The Plan
I don't want to spend a ton of money on this space. I just want to finish it and make it look nice. Max and I aren't super fancy people and this room does not need to be extravagant by any means.
Over the years I've been collecting pieces of furniture, art, and a bunch of other decor items from thrift stores, flea markets, Etsy, Ebay, Craigslist, and Facebook Marketplace (all the usual suspects). I hoard all my treasures in the basement knowing that I will eventually find a purpose for them. So the goal right now is to mostly use things we have on hand. And then I'll mix in some other inexpensive items from places like Target or HomeGoods.
Here's the current to-do list:
Lighting
The ceiling fan is going to go! We'll be installing another one that is much simpler.
I have a thrifted sconce that I will be fixing up and rewiring.
Some other DIY adjustments will need to be made on some lamps I have on hand.
Furniture
I will be refinishing some older 1980's nightstands that I found on Craigslist.
The king bed and dressers will stay. But I'm contemplating new hardware on Max's dresser.
Art
I need to find a few more art pieces to create a gallery wall.
I will be forcing Max to take some different photos for me so I can switch up the art over the bed.
Textiles
Hang new curtains.
I'm considering a new shade over the window (depends on the budget)
New bedding.
Pillows! Throws!
The Layout
The master bedroom isn't too big (about 14′ x 11′) and we have a ton of furniture. But, it is what it is. Here's a general idea of the layout we're working with.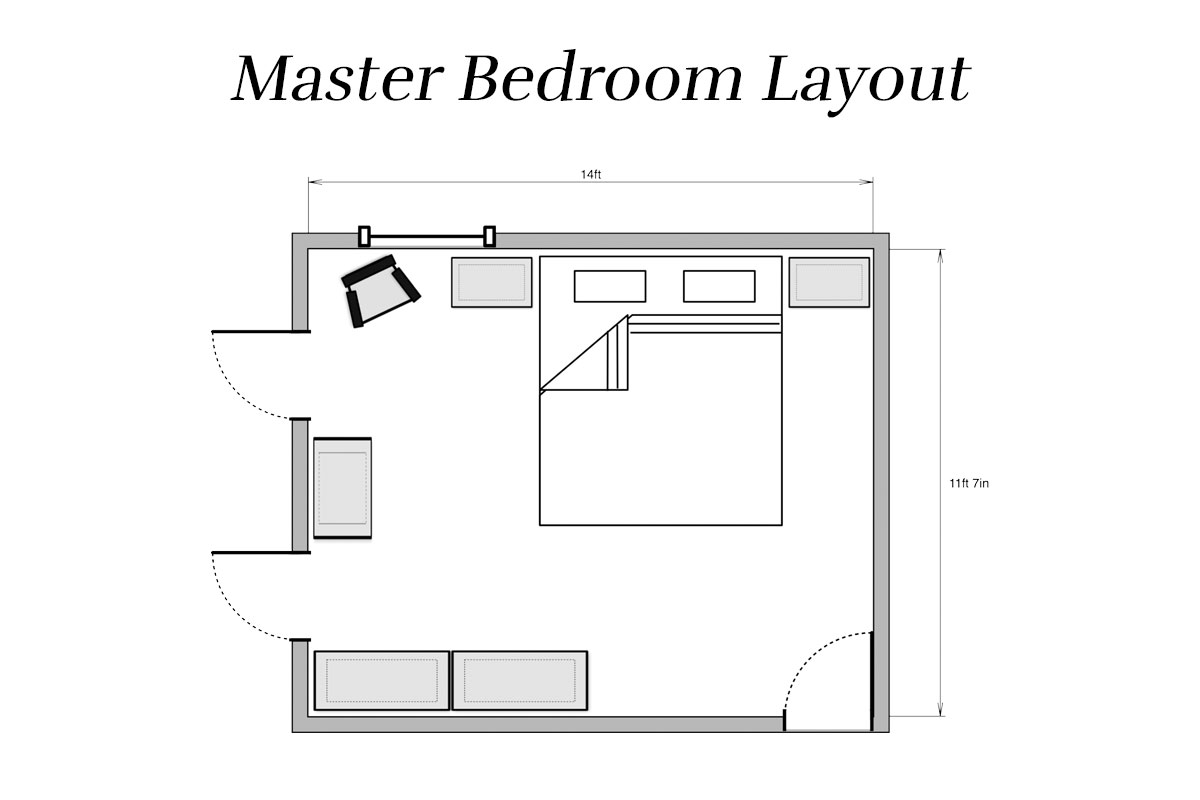 The Vibe
Like I said, we aren't fancy people. So in this room I'd like to go for a more casual, eclectic, earthy vibe. Since it's a master bedroom I'd like it to be calm and without much clutter. I also don't imagine bringing too much color into the space. I'm thinking just black, white, and wood tones. Any metals in the room will mostly be oil rubbed bronze with hints of brass mixed in.
I'm loving this image below by Laura Rensen. And am hoping to use this as my main source of inspiration.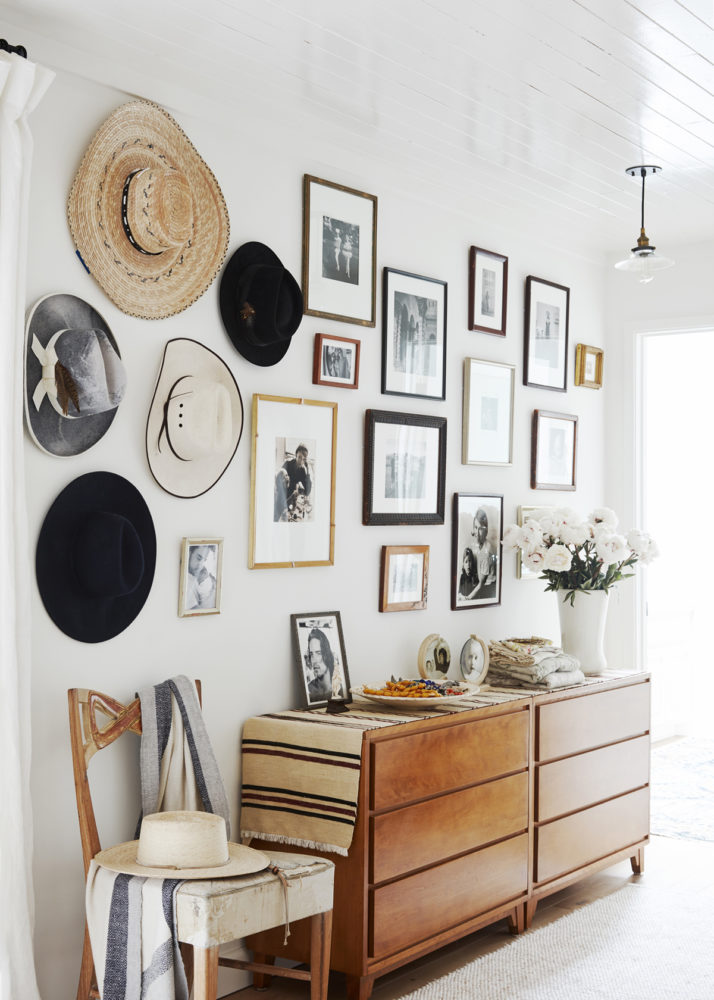 I've also been pinning inspiration images to a board on Pinterest if you're interested taking a peak at that.
I'm excited to get started and get this whole space finished. Hope you will follow along!
Please make sure to check out all of the featured designers as well as the guest participants of the One Room Challenge!