It's the final week of the One Room Challenge! I can't believe it. The time actually went by a lot more quickly than I expected. And I'm so happy that we finally have a room to ourselves that feels "complete".
If you're new here. Hi! I'm Melissa. I live in Madison, WI with my family and we are currently updating our 1970's ranch home.

If you want to catch up and see all my One Room Challenge posts for this room click here!
Before we get into all the pretty photos let me remind you of our starting point with this room. It's gone through a few phases already.
Here is what the bedroom looked like initially. This photo is actually from the MLS listing.
And here it is after everything was empty on move-in day.
After we moved in we immediately painted the walls white, threw in some old furniture, and made do with it for awhile.
Then almost 2 years ago we ripped out the carpet and had laminate floors installed, which made a huge difference. We also upgraded to a king size bed. And after at least a year of searching I found a matching set of nightstands on Craigslist. So, this was our starting point for the room for this challenge. It was pretty plain.
And now, after six weeks of focused work on this room I'm very happy to say it's complete!
This is a look into the room from the doorway.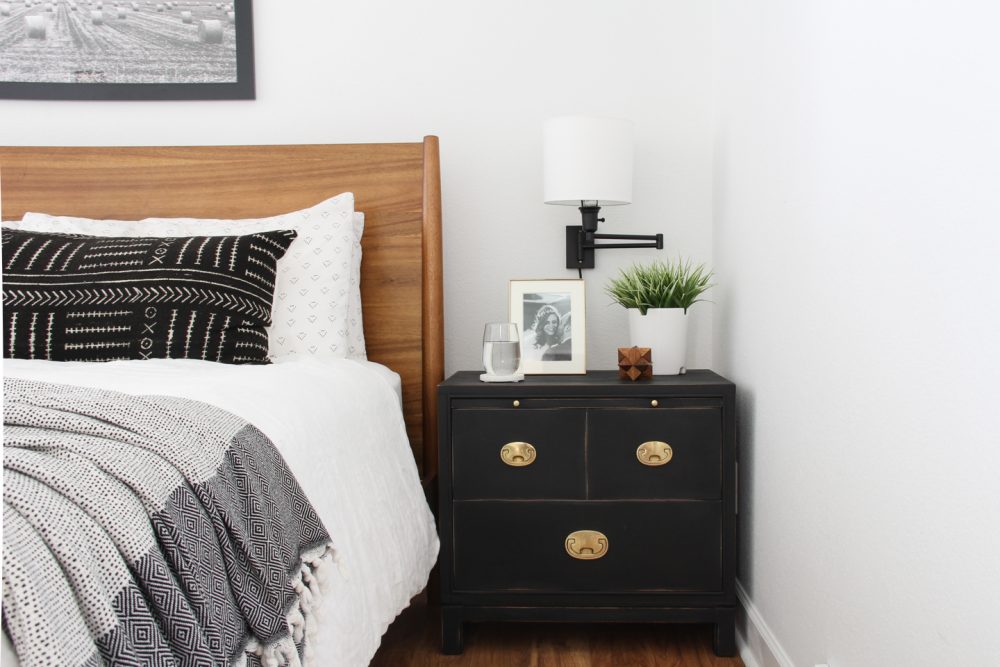 This is Max's side of the bed. The lighting fixture on the wall was a simple brass sconce I found at Goodwill for $2.99. It wasn't my first choice, but I ended up spray painting it black (read more in week 2) and rewiring the external cord with a fabric wire (read more in week 5).
The nightstands were a 1980's pair that I found on Craigslist. I first de-lacquered the hardware (read more in week 3). And after some back-and-forth about re-finishing vs painting the wood (read more in week 3) I finally decided to paint the nightstands black (read more in week 4). And then I did a little distressing around the edges. I really like how they turned out! The newly un-lacquered brass hardware is already tarnishing a bit (don't worry that's a good thing). I think over time the brass will age really well and have a lot of great character.
Another thing that made a huge difference in the room was swapping out the ceiling fan. It took us awhile to figure out how to install it but it was definitely worth the effort!
We also got some new bedding. The duvet cover is linen and now I don't think we can ever go back. It gets wrinkly but it just feels so much better than any other fabric!
The body pillow was custom made from mud-cloth fabric. And the throw is a Turkish blanket.
The large art above the bed is a photo that Max took. This field is right by our house and we pass it all the time. I got it printed at our local FedEx store as a 24″ x 36″ engineer print for less than $5. I think it looks great! But if I get bored of it after awhile I'm sure I can convince Max is take another photo for me and I'll get a new one printed. For only $5 a piece I won't feel so bad changing my mind. That's about the cost of one latte.
The mid-century chair in the corner of the room was my grandpa's. It's a little worn, but I like it that way!
I think this vintage dresser is the first piece of furniture Max and I bought together (6 years ago maybe?). It fits perfectly between the small space between our bathroom and closet.
And these are also two vintage dressers (Conant Ball) that I found at a local resale shop. The runner on the top is an old grain sack. I used a seam ripper to remove the side stitches and it ended up being the perfect length to sit on top of the dressers. I like that it adds a little bit of texture to the room. But it will also protect the tops from getting scratched.
The lamp in the corner is a vintage Martz lamp! One of my favorite Goodwill finds to date (read more in week 2).
I've also been collecting art and vintage frames for awhile, so I'm so glad I have a nice big wall where I can display my collection. I ended up matting and framing a lot of the art myself (read more in week 4) and I really like how the gallery wall has turned out so far. But I'm also leaving space so that I can fill in more pieces as I find ones that I like. Flea market season will soon be upon us and I have to have something to look for when I go!
And now for a little side by side before and after:
This was my first time participating in the One Room Challenge and I'm so glad I decided to do it! While it was a lot of work and at times stressful to get the photos taken, it really forced me to stick to a timeline and make decisions. Without a deadline I can drag projects out for a long time. But this challenge really helped me to stay on track. Only focusing on one room at a time is so much more effective than trying to work on a whole house at once.
Thanks for following along on my first One Room Challenge journey. If you want to see all my One Room Challenge posts for this room click here! And please make sure to check out all of the final room reveals for the featured designers as well as the guest participants of the One Room Challenge!
Sources:
bed | table lamp | duvet cover | throw blanket | bamboo shade | curtains | coasters | black metal frame | chevron bone frame | thin gold frame | marble and wood bookend | ceiling fan | drapery rod