It's the first week of the Fall 2018 One Room Challenge and I'm very excited to get back into the swing of more regular blogging and posting about our renovations.
If you're new here. Hi! I'm Melissa. I live in Madison, Wisconsin with my family and we are currently updating our 1970's ranch home.
This will be my second attempt at a One Room Challenge. The first time around I finished our master bedroom. Although participating in a One Room Challenge can be stressful, I really enjoyed the process last time around. I think it's a great way to stay motivated and finish a space in just a few weeks. So I'm really looking forward to getting started and meeting some other bloggers along the way.
First things first
I should mention that I decided a few weeks ago to change the name of my blog. It was originally called Lumber Loves Lace, which was kind of a joke to tease Max's "lumbersexual" obsession at the time.
Needless to say, it didn't age well and I had been wanting to change it for awhile. Ultimately, I think simple is best and using my name makes things much easier.
The website was pretty quick and easy for me to transition over. And all the old lumberloveslace.com links will redirect to the new melissalynch.com domain. But my social media accounts are another issue. I'm still working on changing those. So you will probably see the @lumberloveslace name around Instagram and other places for awhile longer.
Other exciting news
But there is some much more interesting and exciting news to share. We are expecting baby #2! Our little girl is due in January. And we are very excited 🙂
So obviously for this One Room Challenge I'll be working on a nursery! In all honesty, this ORC is coming at a great time because it will force me to finish baby girl's room before the holidays and before I'm no longer able to move around as well (haha!)
The Before
In order to start work on the new nursery we'll first need to move Elliot to a new room. I was hoping to finish it by now, but with everything going on it just didn't pan out. So I will likely be working on his room in tandem with the new nursery. But I'll probably hold off on posting a full "reveal" of his room until after the nursery is done.
Elliot will be taking the former guest room, which is larger and has more closet space for his toys. It'll be great to give him more space to move around and play in there. And then we will change up Elliot's old room for the new baby.
Here's what Elliot's nursery looked like once upon a time.
Then a few months ago we converted his crib to a toddler bed and made a few other tweaks to the room. So this is where we will be "starting" with the new nursery.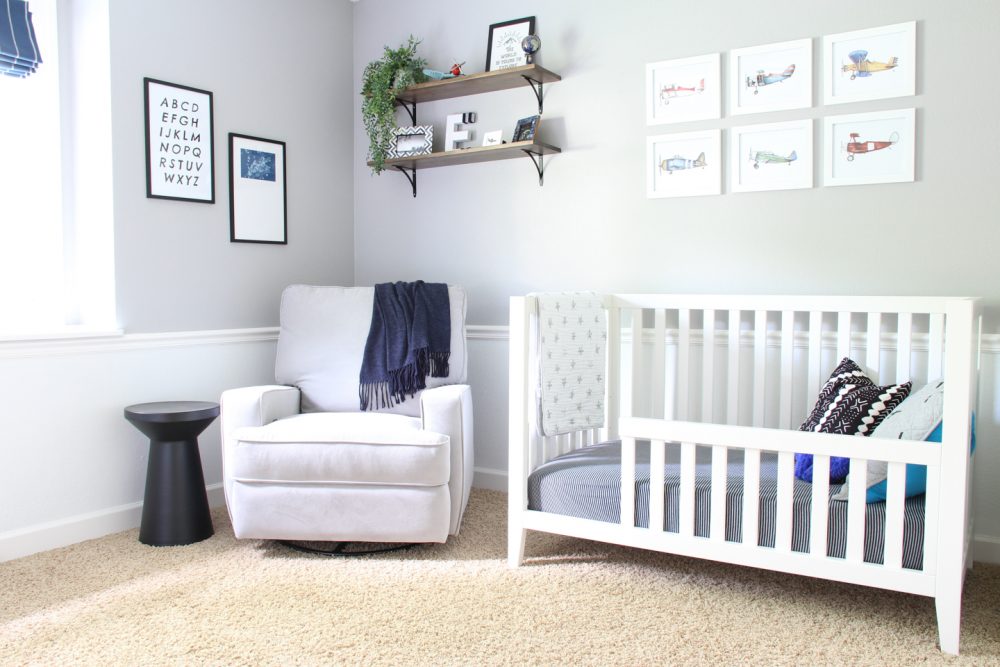 As a reminder though, this is what the room originally looked like when we moved in.
The Plan
Like always, I'm not looking to spend a lot of money on decorating this space. So I will try to do a lot of the work myself and tackle lots of DIY projects to get the look I want.
Furniture
To help costs I will be reusing a lot furniture that we already have which includes the crib and glider.
I also have a dresser that was in the old guest room that I will convert into a changing table (I've done it before and love it!). The dresser will just need a fresh coat of paint (possibly white?) and some new hardware.
Lighting
There is a really ugly ceiling fan in the room currently that we never replaced when we did the nursery for Elliot. I thought we would want to use it. But the truth is we hardly use ceiling fans in our house since winter practically lasts 6 months here.
So I would like to replace the fan with a pretty fixture. I'm not quite sure what I want it to look like though. Our ceilings are the standard 8 feet so it can't be anything that hangs too low. Below are a few fixtures that I'm looking at for inspiration. But I'm very open to DIYing something or using a vintage fixture.
Wallpaper
Wallpaper is probably the thing I'm most excited to try in this room because we don't have any in our house yet. But aren't nurseries are the perfect spot for it!? I'm thinking about doing one accent wall behind the crib. This would require us to remove the chair rail, which I think will work out fine. I'll just need to patch that area and repaint 3 walls.
But what I'm more worried about is the texture on our walls. The old owners had a knockdown texture added to all the walls in our house (ugh…) and installing wallpaper over the top of it is sure to look terrible.
I've been googling around looking for solutions and it seems like you can either skim coat the wall to remove the texture. Or some wallpaper installers have liners that they can install prior to wallpapering that can cover up the texture.
I don't think I want to install the wallpaper myself (I've heard some horror stories!). So I'm going to have to call around and find a wallpaper pro to talk to about all these issues and hopefully hire someone to do the work.
Accessories, art, bedding, fun stuff!
And then there are the fun things that I still need to get for the room!
Accessories and books for the shelves
New bedding (crib sheets, changing pad sheets, crib skirt)
Art
Possibly a vintage mirror (Or maybe I have one in the basement?)
Clothes hamper
Window treatments
The Layout
To get an idea of the space we're working with here's a general layout.
The Vibe
I'm not trying to do a theme with this room. But I'm going to try and stick with a pretty color palette of purples/lavender, mint, gray and white with hints of brass as a metal accent. A lot of girl nurseries are typically shades of pink but I've always loved purples a lot more.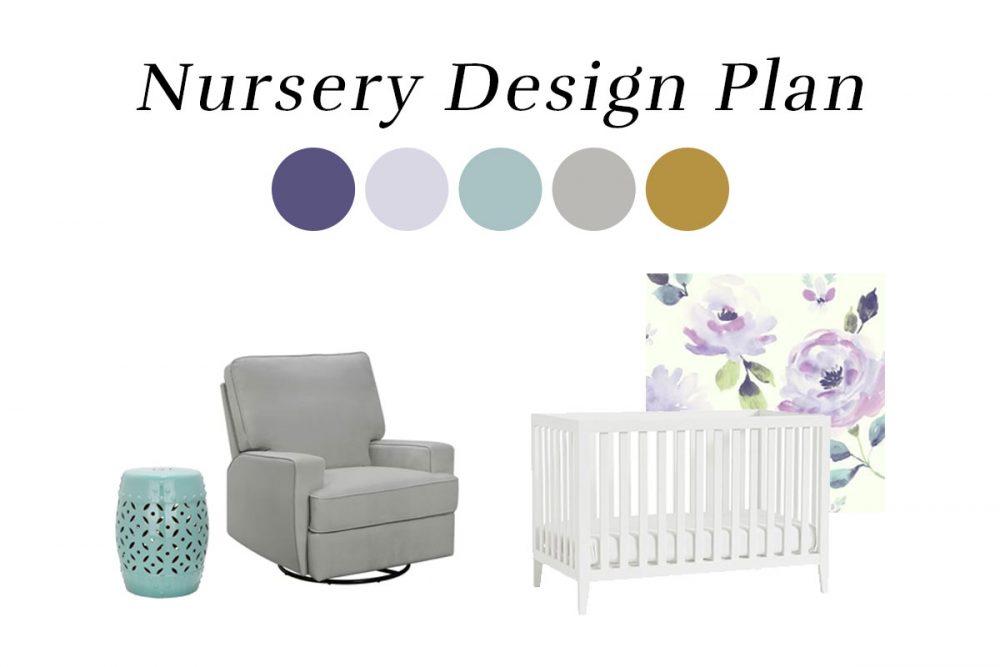 I haven't sourced all the items I need yet for the room. But I have lots of ideas! And I've also been pinning some images to a board on Pinterest. Feel free to take a peek!
The To-Do List
I'm very excited to get started on this new nursery. Here's what the to-do list currently looks like.
Paint dresser, add changing table conversion kit, and attach new hardware
Remove chair rail and do any necessary patching to walls
Paint three walls
Figure out what to do about the texture on accent wall
Install wallpaper on accent wall
Figure out a new light fixture (buy new, DIY, vintage?) and install
Install window treatment
Purchase accessories, art, bedding
Thanks for following along! And please make sure to check out all of the featured designers as well as the guest participants of the One Room Challenge!