It's the second week of the Fall 2018 One Room Challenge and things are slowly moving along in the new nursery.
If you're new here. Hi! I'm Melissa. I live in Madison, Wisconsin with my family and we are currently updating our 1970's ranch home.

If you want to catch up and see all my One Room Challenge posts for this room click here!
To be honest I really haven't been able to get much done this week. But I have done a lot of shopping and planning (still important!). You see, my spunky little toddler has decided he doesn't want to nap. So it's been very hard lately to work on all my projects.
But I did manage to accomplish a few things. So here goes!
Figured out what to do about texture on accent wall
I mentioned in my post on week 1 that I wanted to install wallpaper as an accent wall behind the crib. However, all our walls have a very heavy knockdown texture that would not look good once the wallpaper was installed. But after doing lots of research it seems like the "correct" approach is to skim coat the wall before wallpapering to make sure everything is nice and smooth.
I ended up calling some contractors to get quotes to skim coat and add wallpaper. But unfortunately the quotes are coming back at a lot more than I was hoping to spend. I mean, it's just one wall! And it seems silly to throw at ton of money at making one wall look good. I'm planning on leaving the other 3 walls textured because that's what we have in the rest of the house.
So anyway, I've been watching lots of YouTube tutorials and I *think* I might be able to skim coat myself. I mean, what's the worst that can happen? I want to try and give it a shot and try to save a little money. I already went to Home Depot and got my supplies. I'm just waiting for a good time to transfer Elliot to his new room before I get started on this project because it's going to make a huge mess.
Removed chair rail
To prepare for the skim coating process, over the weekend Max helped me remove the chair rail from the room. The old owners installed it and I get why they put it where they did, because it is also used as a trim piece for the window sill. But I always thought the rail was a little too low in relation to the crib.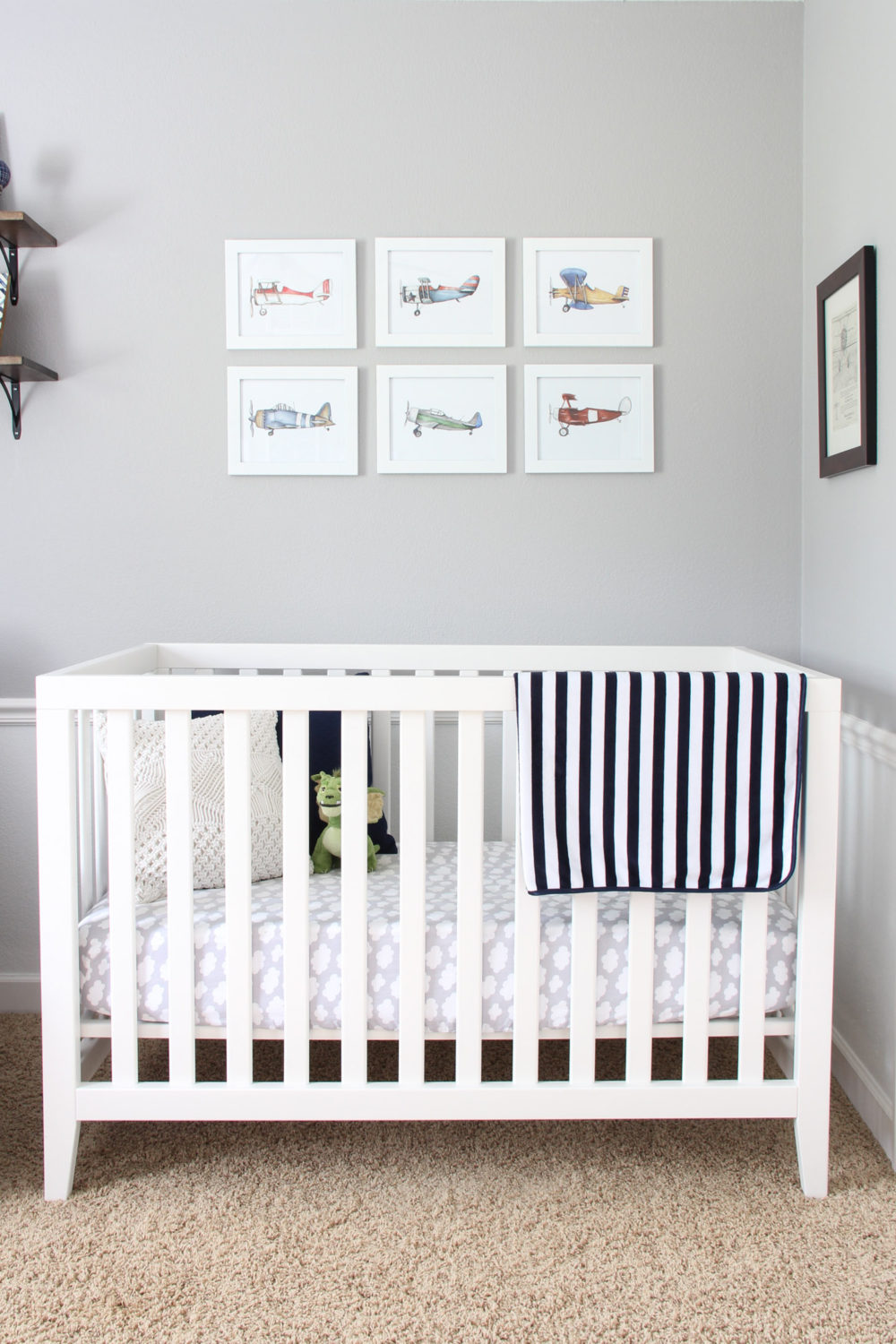 So off it came! Don't worry though, it was just MDF and not any kind of nice wood.
But the good news is that the old owners decided to texture all the walls before putting the chair rail up. So I'm hoping the patching I'll have to do on the 3 textured walls will be a lot easier now.
Started painting dresser
Today I also started painting the dresser. I've decided on white because it's classic and I already have a ton of white paint in the basement ready to go.
I love using my critter spray gun for projects like this. The finish looks so professional and it makes everything go so much quicker!
I bought some vintage brass pulls on eBay and I'm excited to see them installed on the dresser. I think they'll really pop against the white.
Found a light fixture
While I was a ReStore I found a light fixture that I think I might be able to hack into a pretty chandelier for the nursery. It was only $8 so I figured it was at least worth a try.
I posted some stories of the fixture on Instagram and was talking about painting it a brass color. But a few people reached out and told me to use Rub 'n Buff instead! Funny enough I actually have some in the basement somewhere. I've never tried it on metal though (only wood). But I'm excited to test it out and see how it works for this.
After the fixture is looking more like brass I want to add some kind of beading to it. I haven't quite figured that part out but I'm hoping to work on that more next week. Here are some inspiration images. Obviously I'm thinking something sparkly!
Started acquiring accessories and bedding
I've also started purchasing accessories and bedding items for the room (pillow cover, crib sheets, crib skirt).
The thing I have the hardest time with is finding art. So I'm hoping to start looking for more of that very soon. I'd love to buy some pieces from local artists. So if anyone reading this has any leads for Madison (or Wisconsin) based artists let me know!
The To-Do List
And here's the ever-evolving list…
Paint dresser, add changing table conversion kit, and attach new hardware (started)
Remove chair rail and do any necessary patching to walls
Paint three textured walls
Figure out what to do about the texture on accent wall
Skim coat accent wall
Install wallpaper on accent wall
DIY a light fixture and install
Install window treatment
Purchase accessories, art, bedding
Thanks for following along! And please make sure to check out all of the featured designers as well as the guest participants of the One Room Challenge!