It's week 3 of the One Room Challenge and just like last week, things are still moving very slowly in the nursery. I don't know what it is with this room, but I've had lots of planning road blocks and now I'm getting nervous that this room will not be finished on time.
If you're new here. Hi! I'm Melissa. I live in Madison, WI with my family and we are currently updating our 1970's ranch home.

If you want to catch up and see all my One Room Challenge posts for this room click here!
I feel like I've been working very hard on this nursery. But at the same time I also feel like I don't have much to show for it right now. I suppose this is how it goes during the beginning and middles stages of a project. There's a lot of moving pieces and lots of projects to plan and finish. But hopefully everything will eventually come together in the end.
Dresser/Changing Table
I did manage to finish painting the dresser/changing table for the room. And I'm really happy with how it turned out!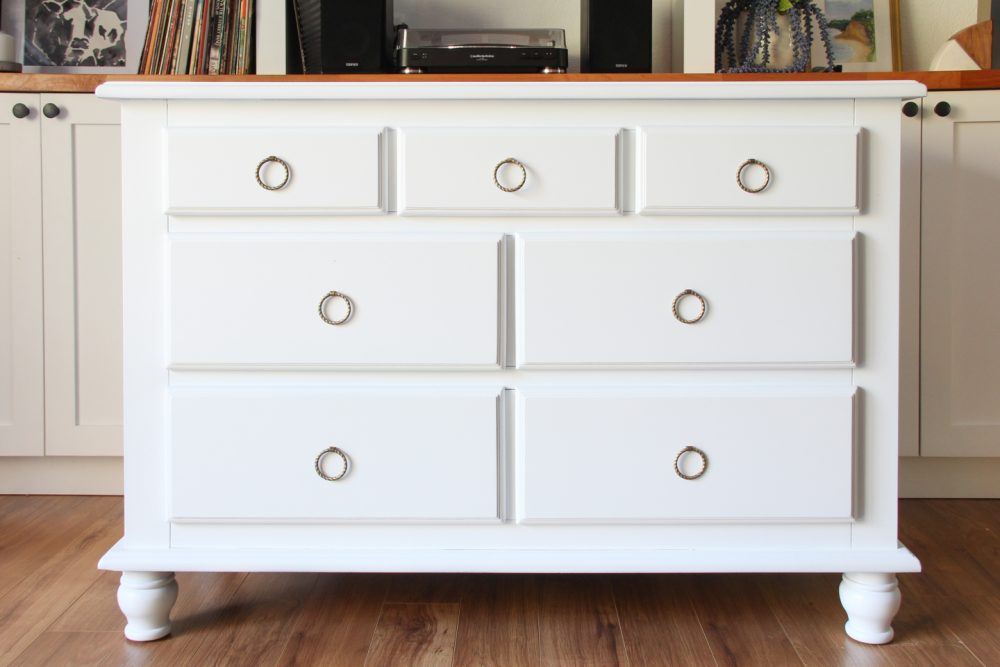 I also cleaned up the vintage brass hardware a bit (I didn't want to take off all the patina) and got them attached to the drawer fronts. I had a little trouble installing them so I had to drill a bit to make the holes slightly bigger to accommodate the prong for the rings.
I still need to install the changing table conversion kit. And I would eventually like to line all the drawers with some fun contact paper. It's something I always like to do, but especially with kids dressers because we all know things are likely to spill inside.
Light Fixture
I decided to go for it and use the gold Rub 'n Buff I had on hand for the light fixture. And I have no idea what I did wrong, but the finish looks terrible!
And here are some close-ups of the finish so you can really see what a horrible job I did.
I'm pretty disappointed with how this turned out! So I bought some gold spray paint today and am thinking about spray painting over it. But part of me also wants to cut my losses now and scrap the whole idea and find something vintage instead.
So I've been in limbo with this whole light fixture business. Either I keep going along as planned, start buying the beads and try my best to make it look good. Or I give up and really start hunting for something beautiful and vintage. The problem with vintage is that it can take a long time to find something (a luxury I don't really have with this challenge). And you really never know what you will find so you have to be open to different options.
Roman Shade
I'm also planning on sewing a custom roman shade for the room. It would be so nice to be able to order something like this. But the window in this room is a very odd size. And there are really no off-the-shelf shades that would fit this window. So I'll have to make it work.
This week I found some linen fabric in the basement and I started with dying it lavender.
To get the color I wanted I used a mix of pink and blue Rit dyes I already had on hand.
I also bought some white pompom trim and will try and add that to the bottom on the shade. I think it will look very cute!
Mobile
And because I don't have enough to do already, I also want to make a mobile. I'm loving all the modern looking brass mobiles on the market right now and think I might be able to create something beautiful out of brass.
Per usual, I start with digging through the basement. And during my dive I found a lot of my jewelry making supplies and tools. When I used to do more metal smithing I was very into working with brass and I still have a lot of brass components I could potentially use for a mobile. But I would probably need to buy some brass sheets to cut out some larger shapes.
But while doing more basement digging I also found some other odds-and-ends craft supplies. These wooden hearts are pretty cute! And I'm thinking I could paint them gold and try to string them up (keep it simple?!).
Ugh. I guess I just wanted to share my frustration that I'm feeling very indecisive right now and it's making it hard to move forward with a solid plan. And as a result not much progress has been made. It'll get better, right?!
The To-Do List
Paint dresser, add changing table conversion kit, and attach new hardware
Remove chair rail and do any necessary patching to walls
Paint three textured walls
Figure out what to do about the texture on accent wall
Skim coat accent wall
Install wallpaper on accent wall
Source a vintage light fixture, re-wire if needed, and install
DIY a mobile and install
DIY and install window treatment
Purchase accessories, art, bedding
Thanks for following along! And please make sure to check out all of the featured designers as well as the guest participants of the One Room Challenge!