It's week 6 of the One Room Challenge which means WE'RE DONE WITH THE NURSERY!!!
If you're new here. Hi! I'm Melissa. I live in Madison, WI with my family and we are currently updating our 1970's ranch home.

If you want to catch up and see all my One Room Challenge posts for this room click here!
Before I get into all the pretty photos let me go back and remind you where we started with this room. It's gone through a few phases because it used to be Elliot's nursery.
Here is what the nursery looked like initially. This photo is actually from the MLS listing.
And here it is after everything was empty on move-in day.
For the first few months that we lived in our house this room was mainly used as a dumping ground. We put all of our unused furniture in here and other odds and ends that hadn't made it to Craigslist to be sold or down to the basement for storage.
Two years ago when we found out we were expecting a baby boy it became Elliot's nursery.
Then once we found out we were having a girl we decided to move Elliot to a bigger room and keep this room as the nursery for the new baby. It was perfect timing to redo this room as my project for the One Room Challenge.
And after weeks of work I'm very happy to say it's complete! The little lady isn't due until January. But having the nursery finished now is a huge weight off of my shoulders. I feel like I can focus on the holidays and not stress about being prepared for her arrival. And if she wants to come early I wouldn't really mind!
We were able to keep costs for this room relatively low because we already had a lot of the bigger furniture pieces from Elliot's old nursery. The crib and the glider are still in great shape so I wanted to try to reuse them in this room too.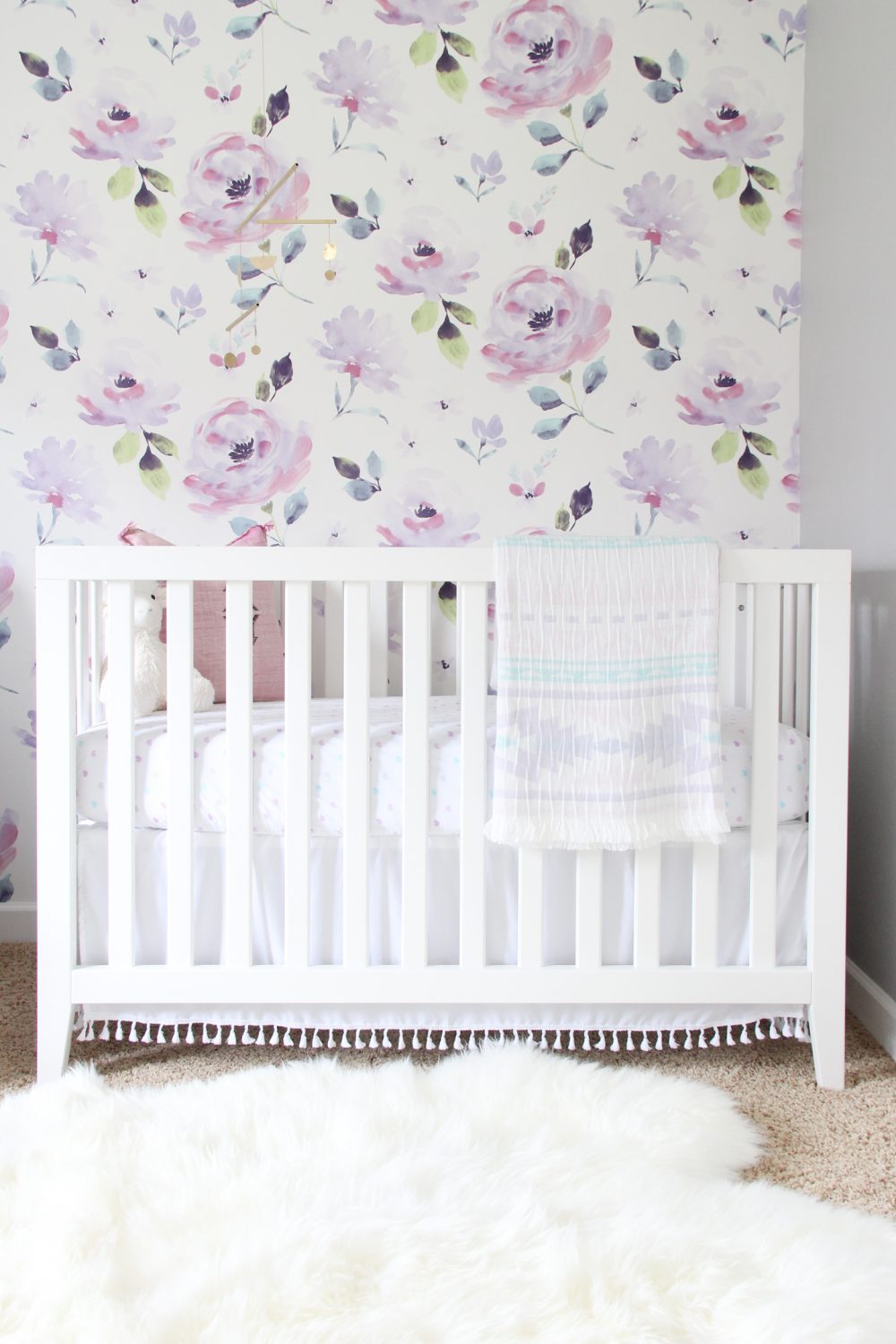 The wallpaper accent wall was a bit of a splurge. And a huge labor of love. After getting some quotes back from contractors that were not within out budget we decided to do the skim coating and wallpapering ourselves.
Max was such a big help with this part of the project. He skim coated the wall for me and did a ton of work helping me cut and hang the wallpaper earlier this week. It was very tricky to get everything to line up just right and get all the bubbles out. It's not perfect but we did a really good job for our first try. Plus, we saved a lot of money by doing all the work ourselves.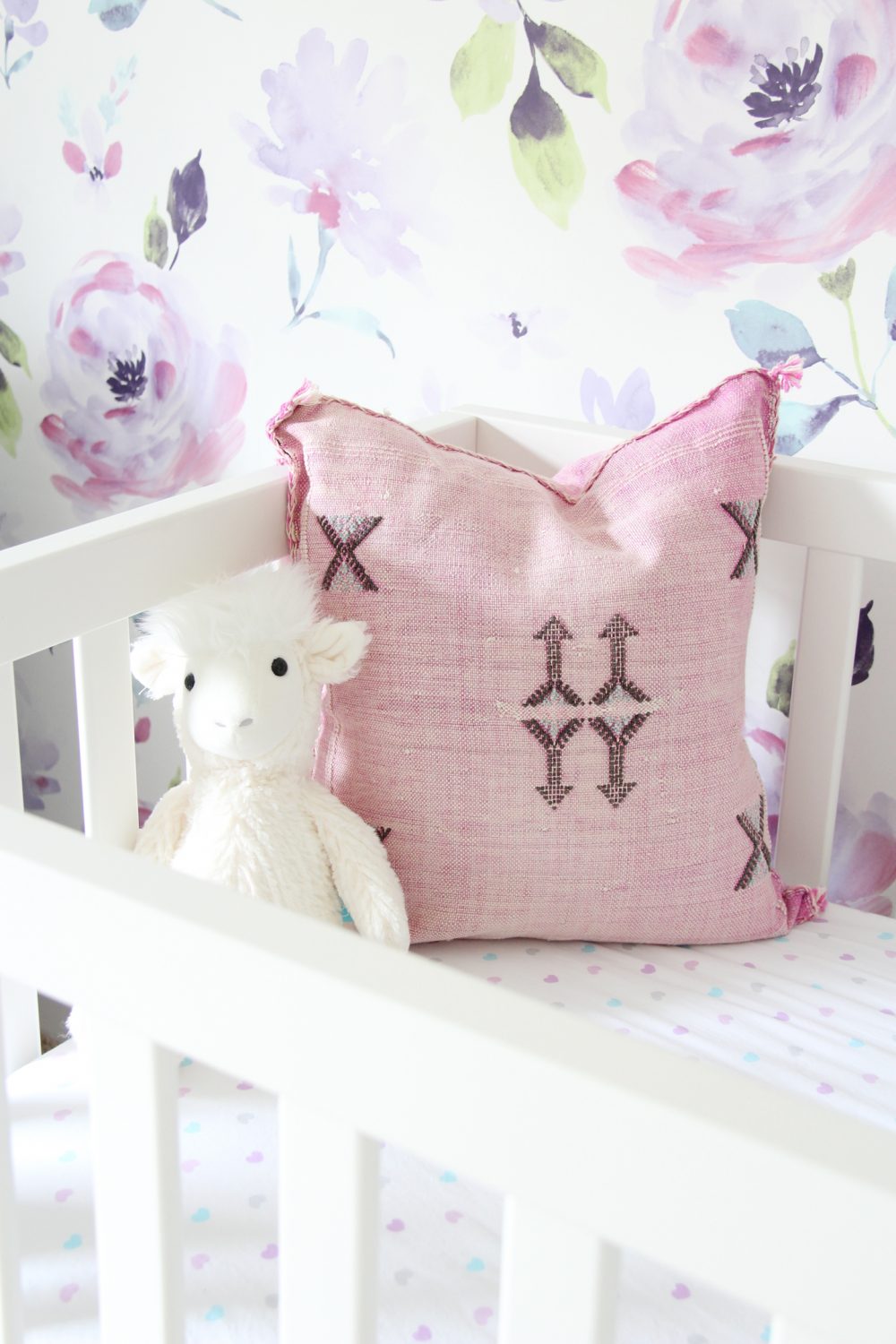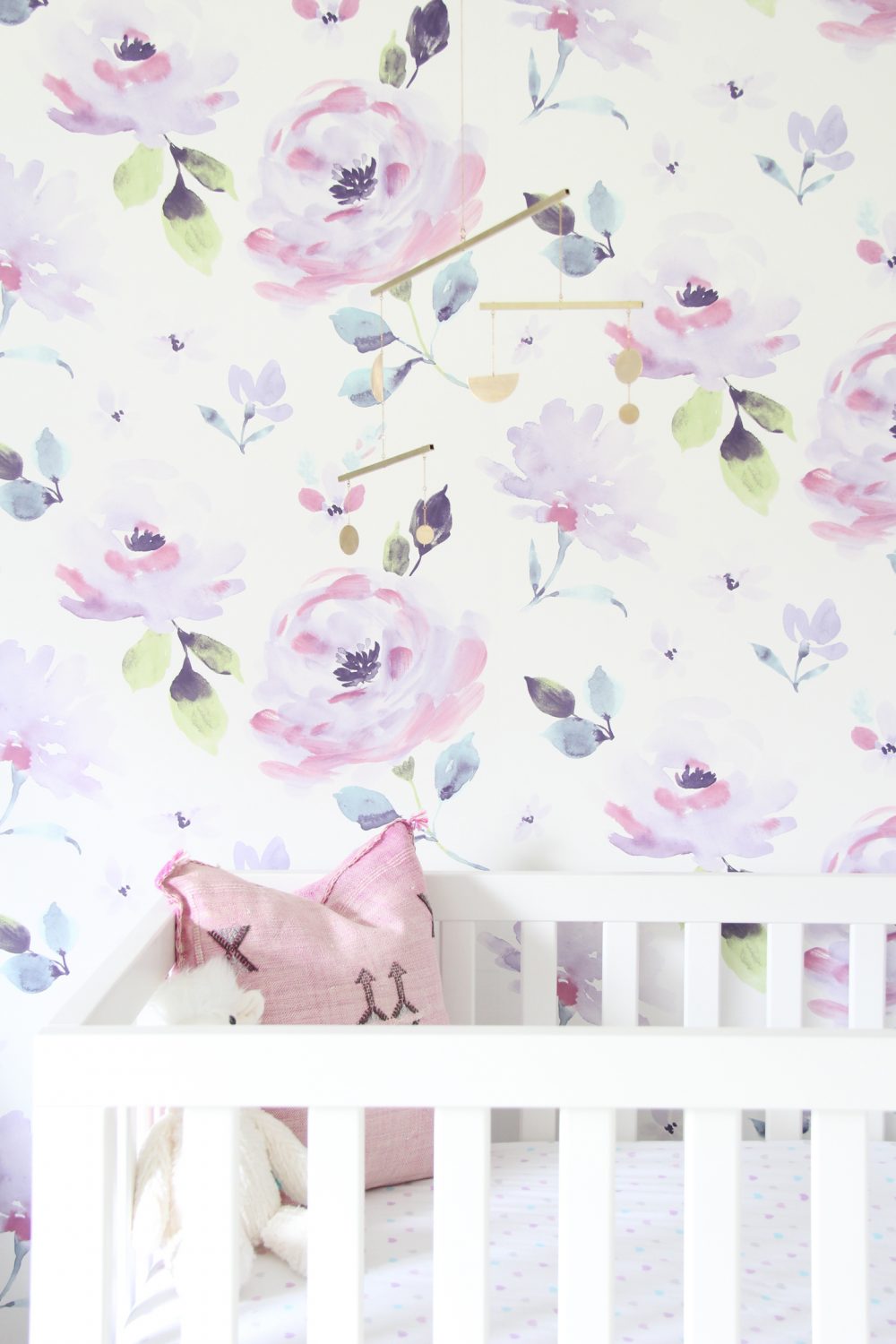 I also bought some new bedding and made my own brass mobile to hang above the crib. A lot of the projects in this room I DIY'd. I haven't written up any tutorials but if someone reading this is interested in how I did something let me know in the comments below and I'll try to get a tutorial post written up!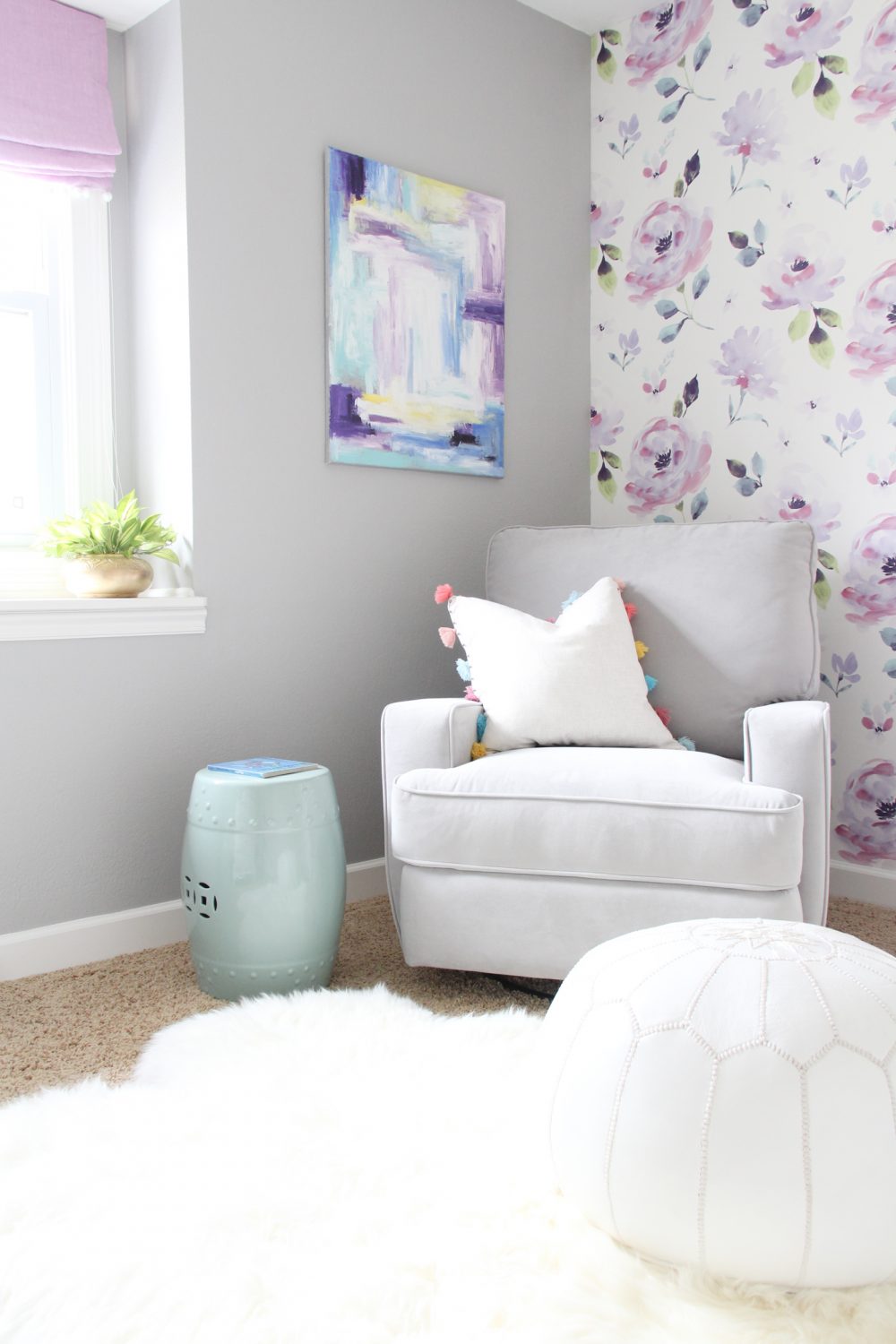 When I started putting the nursery together in my head and mulling over color schemes for the room I happened upon this garden stool side table at Goodwill for $20 so I snatched it up immediately. So glad I did! I love the combinations of mint and purple together.
The roman shade over the window is another DIY project.
The large artwork is something I decided to paint last minute for the room. I haven't painted anything in a very long time. But I needed some last minute art and there was no way I could order anything and get it shipped in time. But it was fun to get creative in this way again.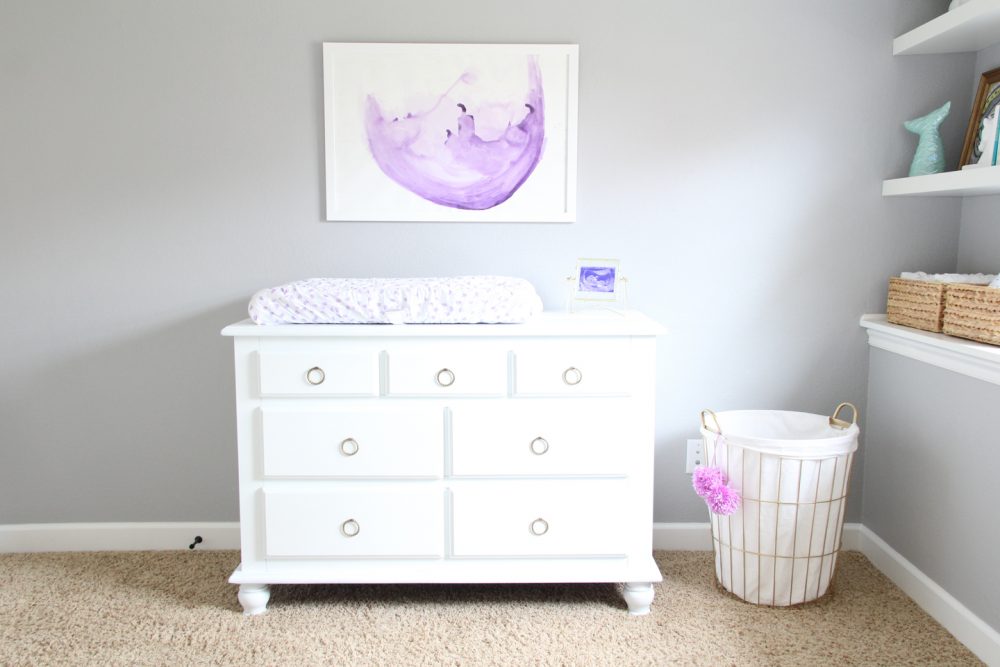 The changing table was an older dresser that I had in the guest room that I painted. It was black at one point, then gray, and now white! I found some vintage brass hardware on eBay to add to it and I think it looks so cute with the new ring pulls.
The large artwork is another last minute piece that I made for the room. I'm not the best when it comes to using watercolors, but I think it works for now!
I decided to also add some drawer liner inside all the drawers of the dresser because I love the surprise when you open the drawers. And I know, this isn't super realistic because the drawers are completely empty right now. But I've got piles of clothes stashed away and will be ready to start filling things up once I take a bit of a break after this whole ORC ordeal.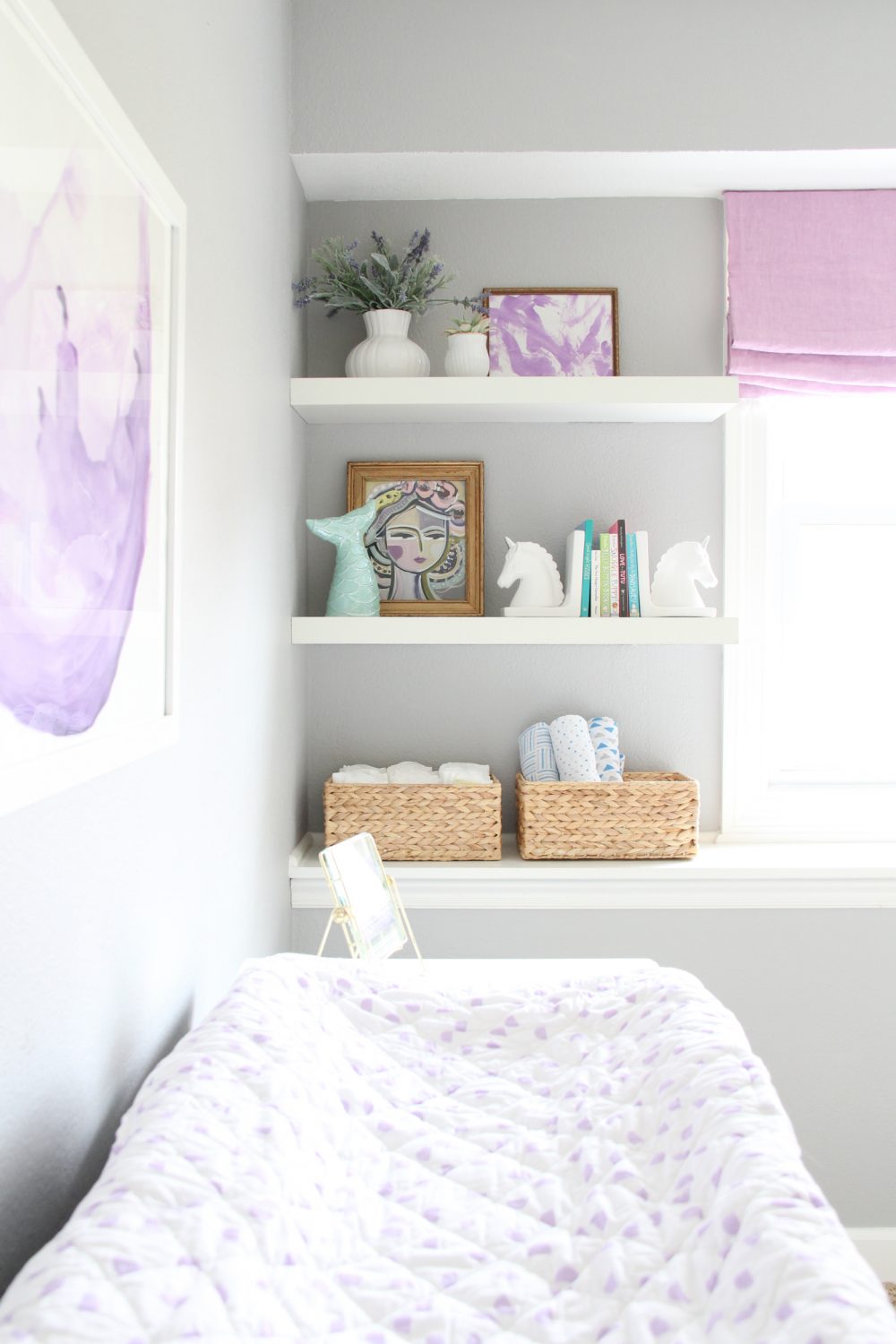 I'm sure these shelves will slowly evolve over time as our little lady gets her own book collection. But for now this is where we're at.
A lot of the decor pieces are either thrifted or from HomeGoods or TJMaxx. But I used vintage frames for the artwork because I really love mixing old with new. The purple abstract is by Elliot. I thought it would be so cute to have something made by her big brother in the room.
And the portrait is a print is by Maren Devine. I'm so in love with her work and the beautiful colors she uses. This print is of a "Warrior Girl". And I think that is so fitting for a nursery for my daughter who I hope will be a strong woman some day.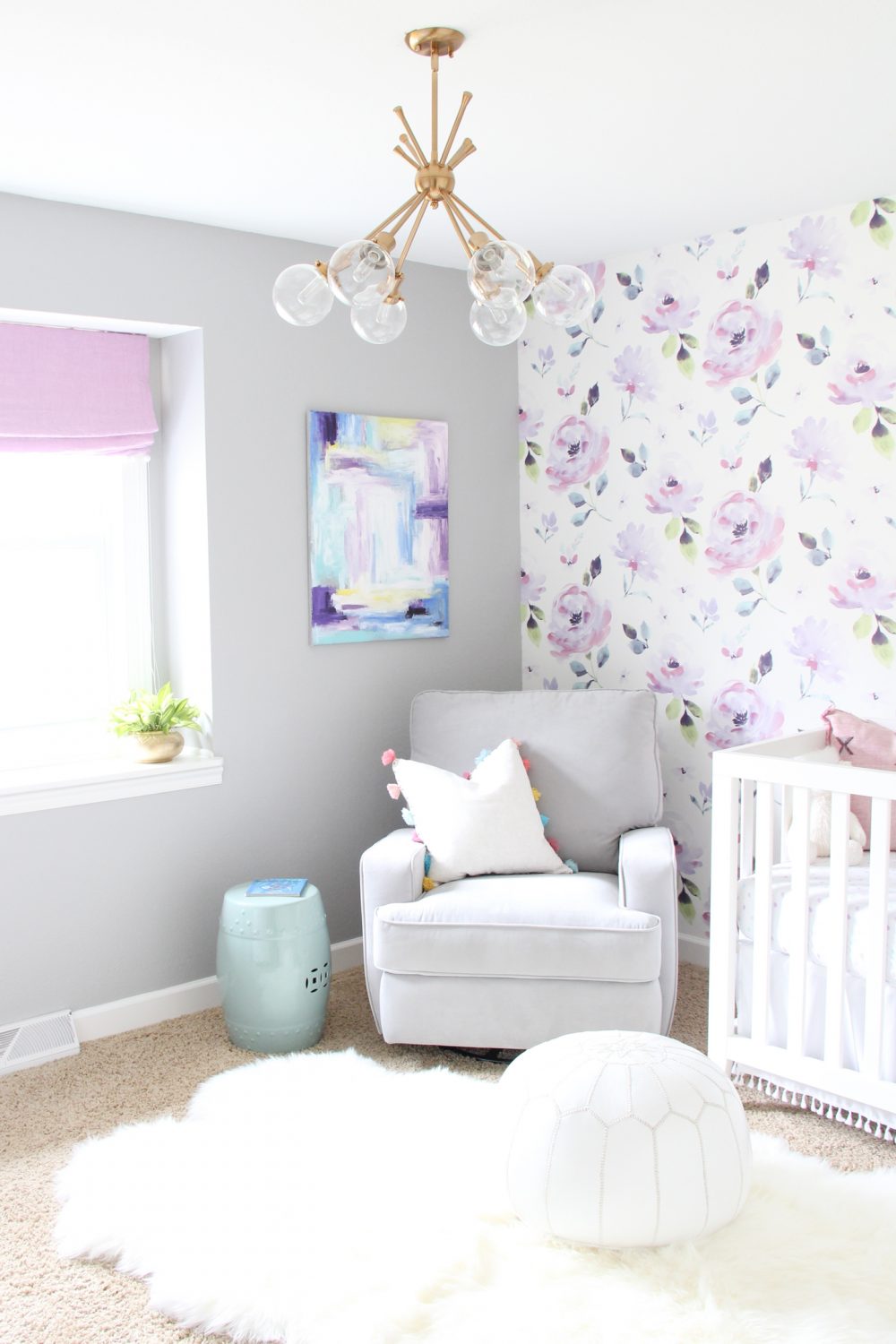 This was my second time participating in a One Room Challenge. For my first ORC I finished our master bedroom (see all those posts here). Compared to my first time around this project has felt like a lot more work. But I'm sure it doesn't help that I'm pregnant this time. Still, I'm still very glad I participated. Having a deadline and others cheering you on is a really great way to stay accountable and get the work done. Otherwise I would probably drag things out and never finish!
Thank you for following along on my journey. And please make sure to check out all of the featured designers as well as the guest participants of the One Room Challenge!
Sources:
tassel crib skirt | crib sheets | drawer liner | purple cactus silk pillow | gray glider | white leather moroccan poof (similar) | garden stool side table (similar) | sheepskin rug (similar) |