Every time I post a little glimpse of our bookshelves on Instagram I end up with a few questions from people. Truth be told I've been meaning to write this blog post for a very long time now. But life keeps happening around here and I kept putting it off (for almost a year! Yikes!). Now I'm finally ready to pull everything together and share more about one of our biggest projects to date: BUILT INS!!!
This project took us a very long time to complete. But I'll try my best to show our process and at the end I'll try to give a timeline break-down. We tackled this project with a newborn and didn't finish until he was almost walking! What an adventure 🙂 haha!
So let's get into it and start at the beginning…
Here is what our back living room looked like initially. This is a photo from the MLS listing.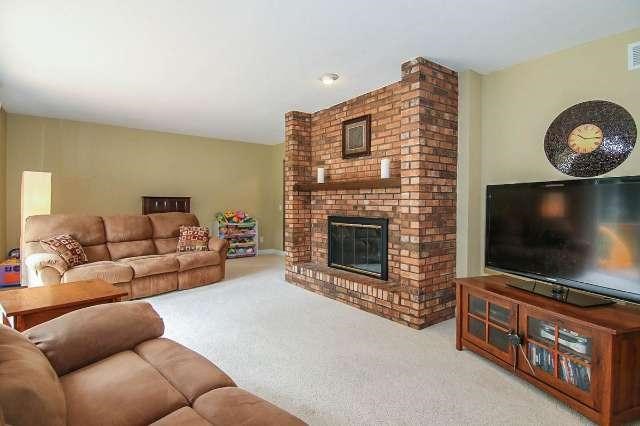 And here's what it looked like on move-in day.
After we moved in we immediately painted all the walls white. Then we eventually ripped out the pony walls and added laminate flooring.
But there was still just a huge, empty wall of nothing (about 14 1/2 feet of nothing to be exact). But I always knew that I wanted to add shelving or more storage of some kind down the road.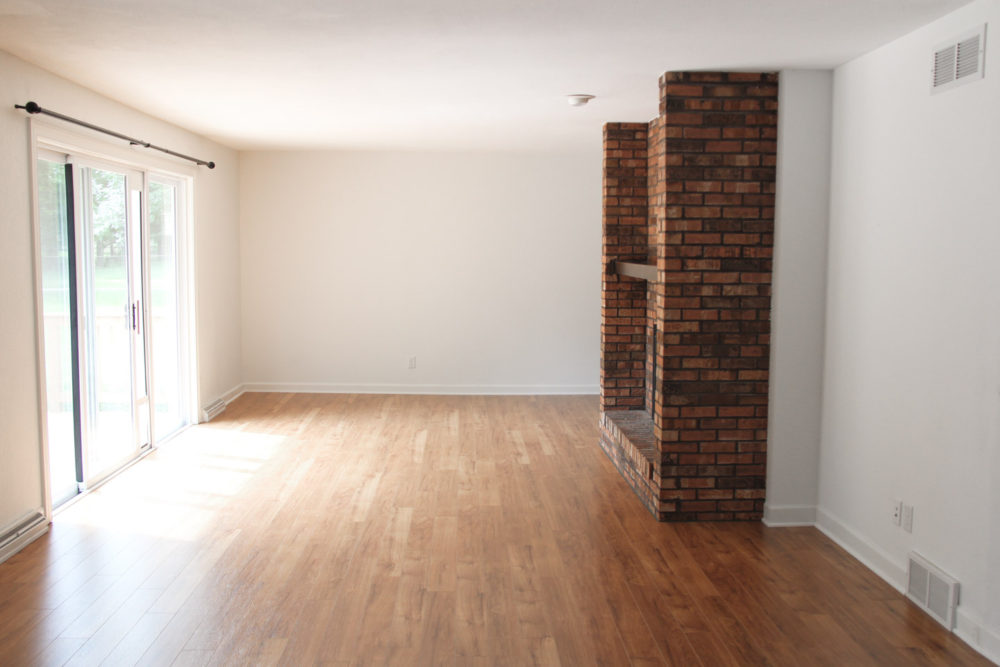 So once we saved up a little money I started planning the design and dreaming up what this huge empty wall would become. And I must say, we did pretty well sticking to this plan. The only place we deviated was eliminating one shelf from the design.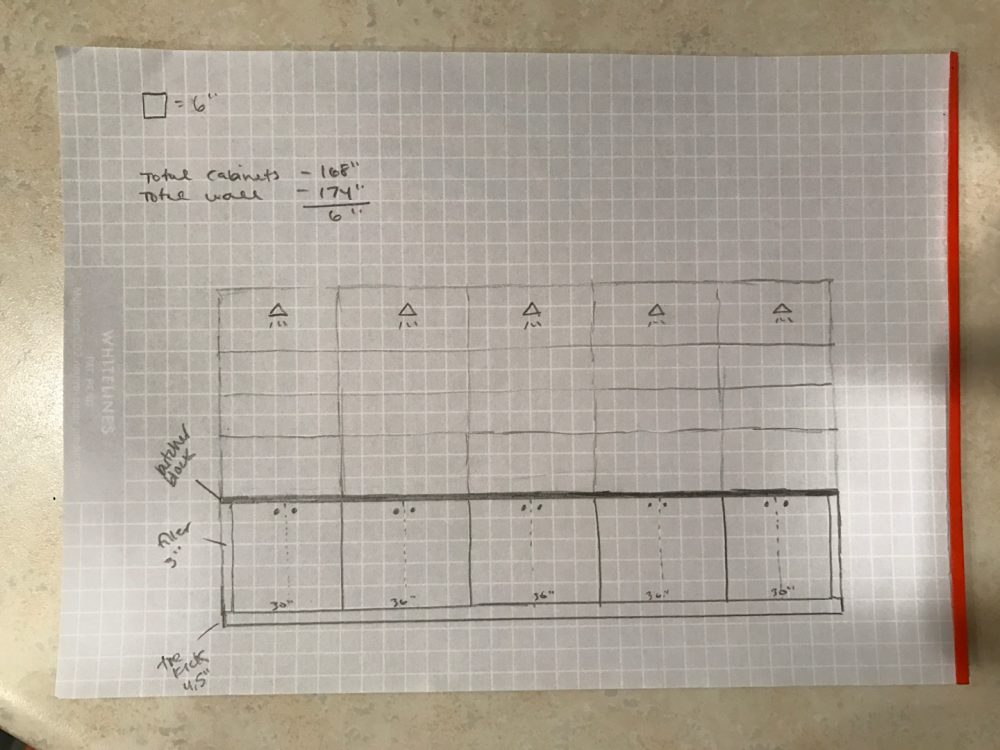 Choosing base cabinets
After doing a lot of research on pre-made base cabinets I decided to go with IKEA. The total depth of our wall that we had to work with was 17 inches, and so this really limited our options.
You can find pre-made upper cabinets at most big box stores that are about 12 inches deep (too small) and base cabinets that are about 24 inches deep (too big). Luckily IKEA sells base cabinets that are almost 15 inches deep. And that worked perfectly for us!
At the time that we started this project our closest Ikea was in Schaumburg, IL (they FINALLY opened one in Milwaukee just a few weeks ago – REJOICE!!!). I wasn't able to make it down there to purchase all the supplies (#babylife) so we ordered everything online. I'd say it was definitely worth the extra $100ish delivery charge to not have to deal with the 4+ hours of driving and chaos that is IKEA. Although I did miss out on the Swedish meatballs.
But when ordering online I just had to plan like crazy and quadruple check that we got absolutely everything we needed.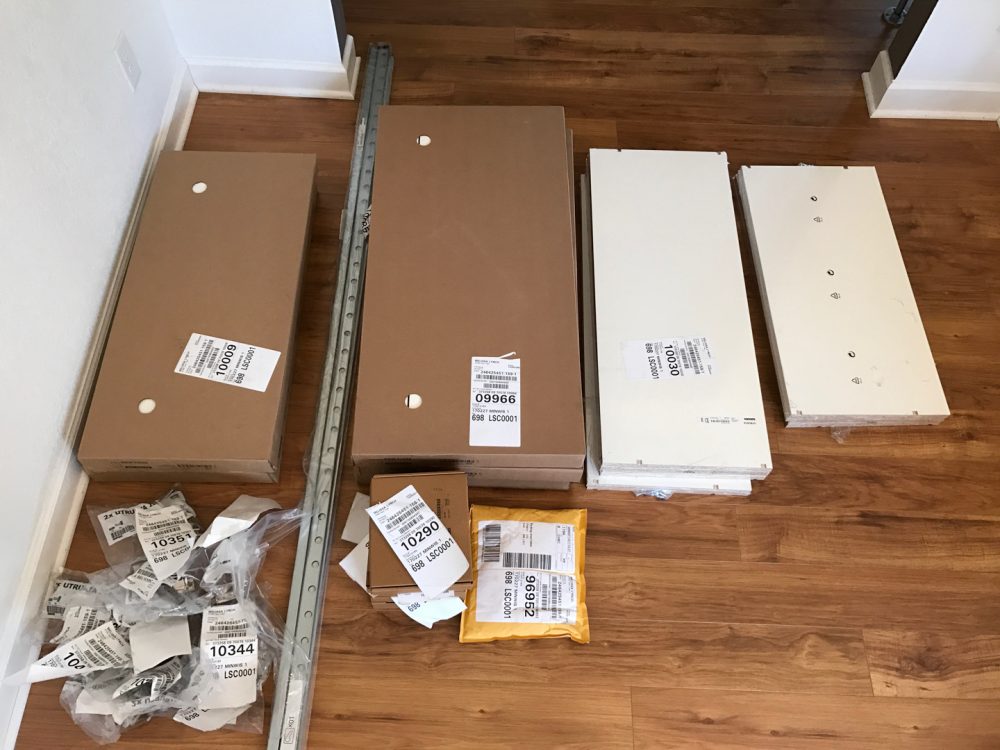 So here's everything we got:
**Note: IKEA no longer sells the UTRUSTA door dampers. But they now sell hinges with built-in door dampers! So nice. These hinges weren't available when we did this project so we didn't use them. But if we were doing the project now I would just buy the hinges with built-in dampers.
Choosing cabinet doors
I opted to not get door fronts from IKEA and instead ordered them separately through Semihandmade. Their doors are made to fit IKEA cabinets perfectly and are great quality wood doors. They're much nicer than the ones you can get from IKEA.
I went with the DIY shaker style from Semihandmade so that we could paint them ourselves the same color white to match our kitchen cabinets and trim.
I primed the cabinets first with a white Zinsser spray primer. And then Max used our paint sprayer and gave them two coats of Sherwin Williams Pro Classic. The color we used is Extra White in a satin finish. The paint job looks really professional and so far it's been holding up great!
Moving and adding electrical
Before we started to install the base cabinets we had electricians come out and they added two outlets to counter height for us.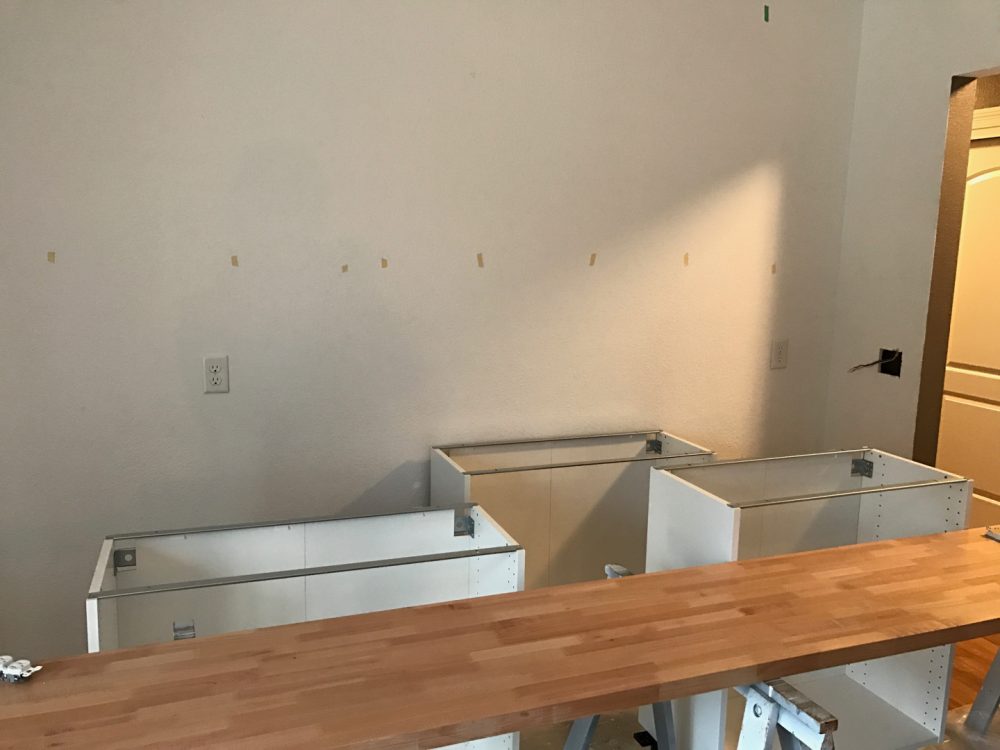 And they also added 5 wires to the ceiling for the sconces. They left the wires hanging and inactive so that we could build the whole upper frame and then later drill holes, pull the cords through, and hang the electrical boxes and sconces. There were a lot of steps to think about in this whole building process.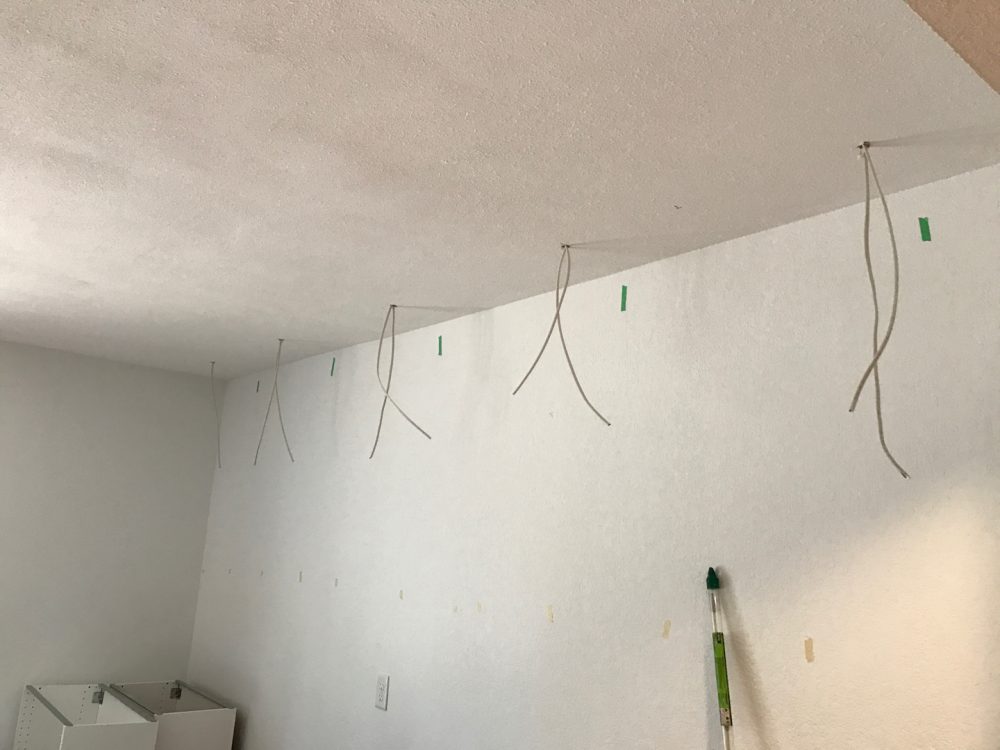 Assembling the base cabinets
I put together all five base cabinets myself and honestly the assembly didn't take much time at all. Then once the cabinets were all assembled we attached the metal suspension rail to the wall and hung the cabinets from the suspension rail.
Leveling the rail took the most time because we wanted to make sure it was perfect. But once it was up the process of hanging the bases went pretty quickly.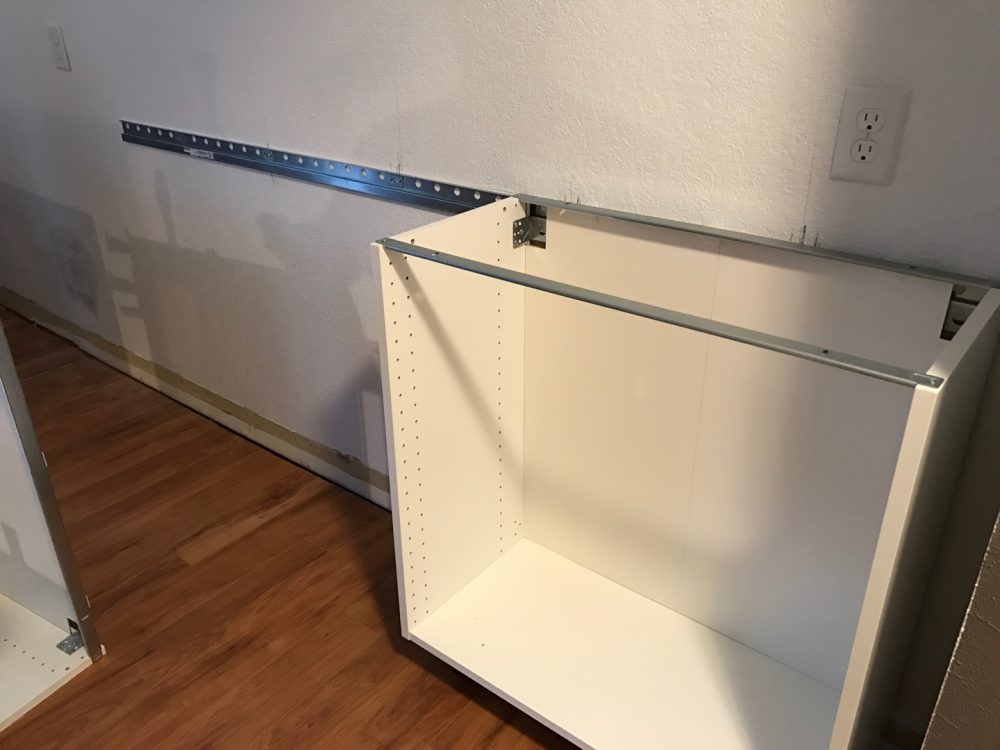 As we went along Max used some clamps and drilled the bases to one another with wood screws.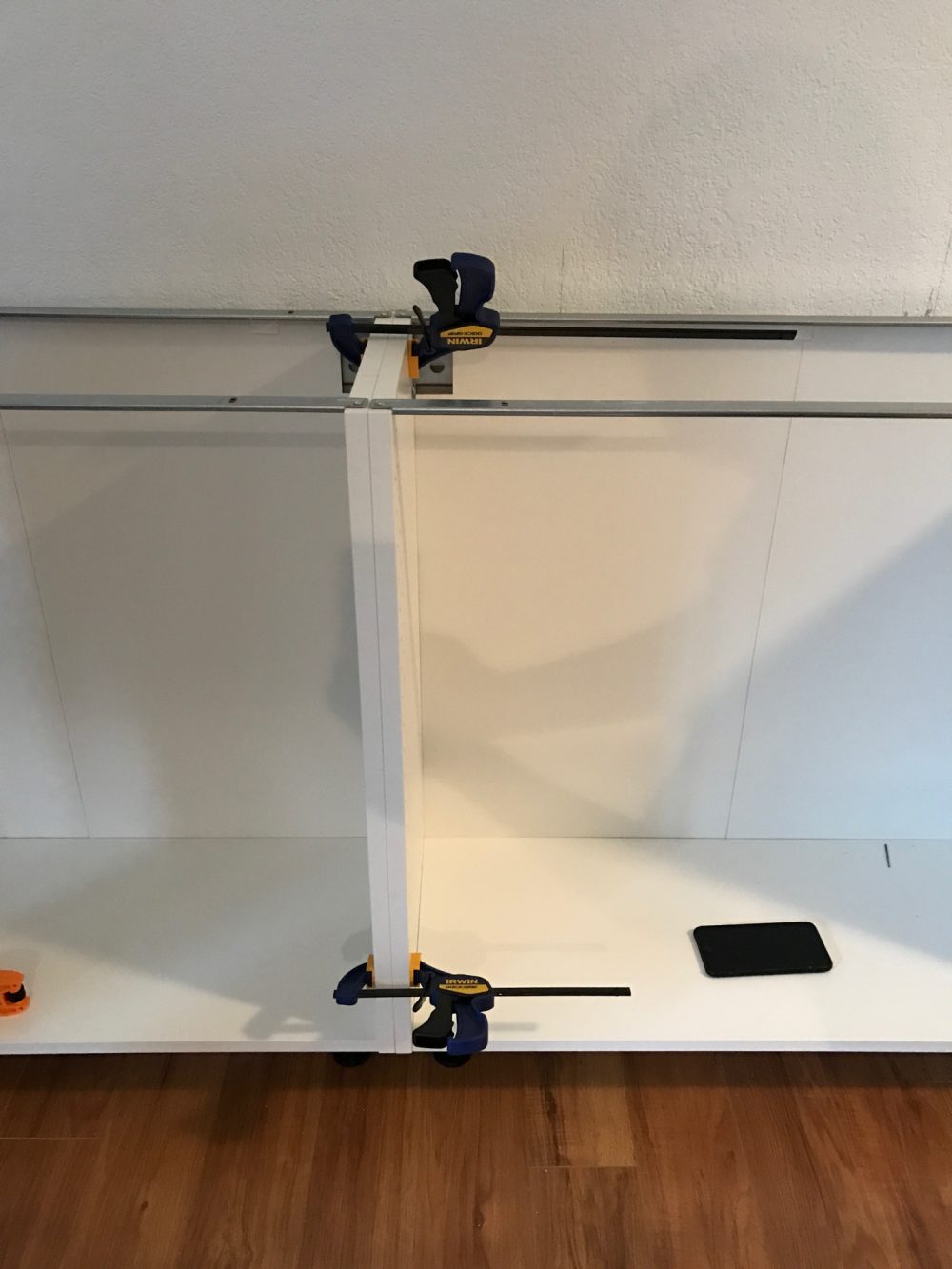 During the whole electrical moving process we decided to keep one of the outlets at the bottom of the wall so that Max would be able to charge things inside one of the cabinets if he wanted. So for this we had to cut a hole in the back of the cabinet and then we installed this nifty recessed wall outlet that makes everything look pretty seamless inside.
The countertop
Once the cabinets were hung we could install our massive butcher block countertop. Since we were dealing with about 14 1/2 feet of wall space we needed a ridiculously long countertop. IKEA doesn't make anything nearly this long and I didn't want to have to join two butcher block countertops together because there would be a very visible seam.
So I found a company online that was able to cut a maple butcher block countertop to the exact depth we needed (16 inches) and shipped it out from California for us on a huge truck. We just had to cut some of the length off and finish the wood. I used Waterlox to seal the wood. But it worked pretty well. I love the look of the butcher block.
Hanging doors on the cabinets
IKEA cabinets use UTRUSTA hinges that are really quite awesome. There are no screws that screw into the door itself. It holds on through some kind of pressure system. But there are screws when you hang the hinges on the actual cabinets.
After the hinges and doors are hung on the cabinets there's adjustments you can make to the hinges so that the doors line up properly. You use a screw driver to turn screws inside the hinges to make minor adjustments up-down, side-to-side, etc. It took me a long time fiddle with this to get everything perfectly in-line.
Here's IKEA's handy reference diagram to show you just how crazy-making it can be to position the doors.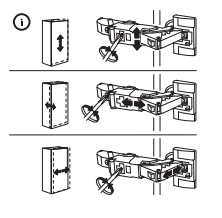 After all the adjustment were made I installed the door dampeners so that all the cabinet doors are soft close. These click on over the hinges. No more loud slamming of cabinet doors! It's amazing.
Adding filler
Our total wall length was 174 inches and our five cabinets ended up being about 168 inches (3×36" cabinets in the middle and 2×30" cabinets on the ends). So we had to fill in about 3 inches on each side of the cabinets with filler.
We got the filler panels from Semihandmade when we ordered the doors and we painted them the same color as the doors. And then Max had to expertly trim the filler to fit in the hole between the cabinet and the wall. And then we nailed the filler in from the side of the cabinet and added some caulk on the wall side to make sure everything was snug and secure.
The upper shelving
After the countertop was installed Max custom built the whole upper portion of bookshelves. It took a little trial and error because we were still learning how to do all these things.
But basically Max framed in the header portion where the electrical for the sconces would go. And then he decided to use a router to make grooves in each of the vertical boards so that shelves could slide right in. Routing the boards took a long time and was tricky to get perfect but Max did a great job. During this part of the building process we decided to change plans and opted for two shelves instead of the three that we had planned in the initial sketches.
Unfortunately the header took up more space than we had originally estimated. And we knew we wanted 18 inches of space on the bottom shelf because we were planning on having a record player and wanted to make sure we could fully open the lid. And I guess the remaining space we had just wasn't enough for two more shelves. So one more it was!
And then Max enclosed the header with the dead electrical wires inside.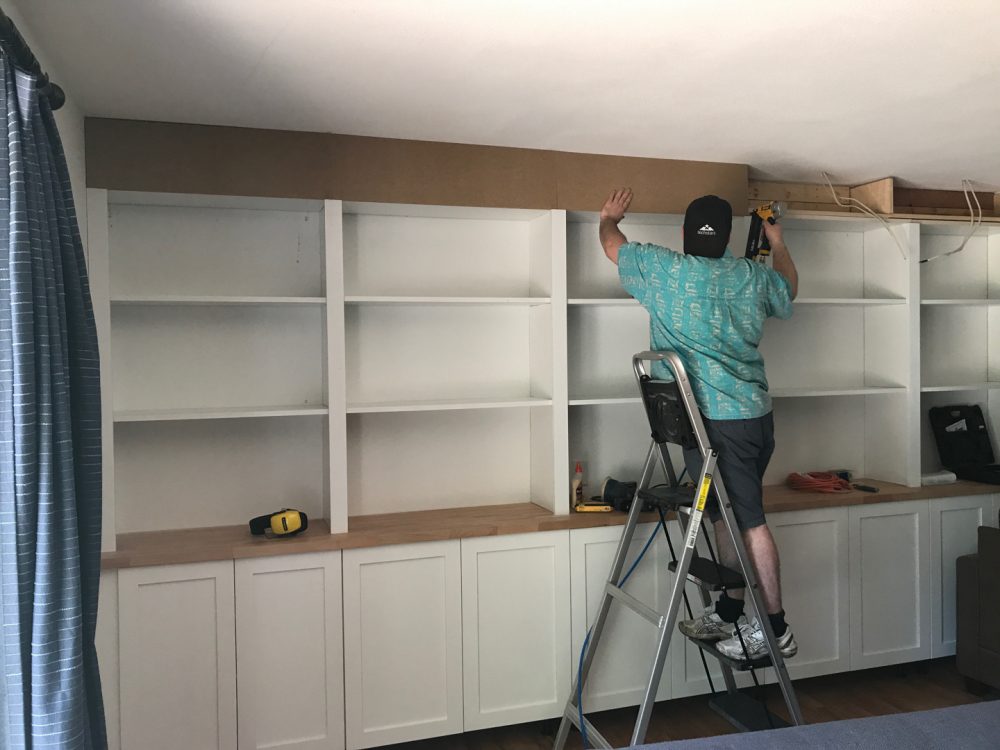 And everything got filled in and trimmed out and a fresh coat of paint. And we also drilled holes and installed the hardware on the cabinet doors.
Then we called the electrician back and he drilled holes into the header, pulled the electrical cords through, and hung the electrical boxes and scones. Maybe we could have done some of this electrical work ourselves? But I don't think electrical stuff is something rookies like us should mess with. So I was happy to pay someone professional to do this for us.
I will say, when I showed the electrician my initial sketches a few months prior I'm pretty sure he thought I was crazy. But he still happily went along with my plans even though I think he was definitely doubting me the whole time. But once the lights were hung he stepped back and was like "Hmm… that looks nice". So that's a win in my book!
Here's a close up of the sconces.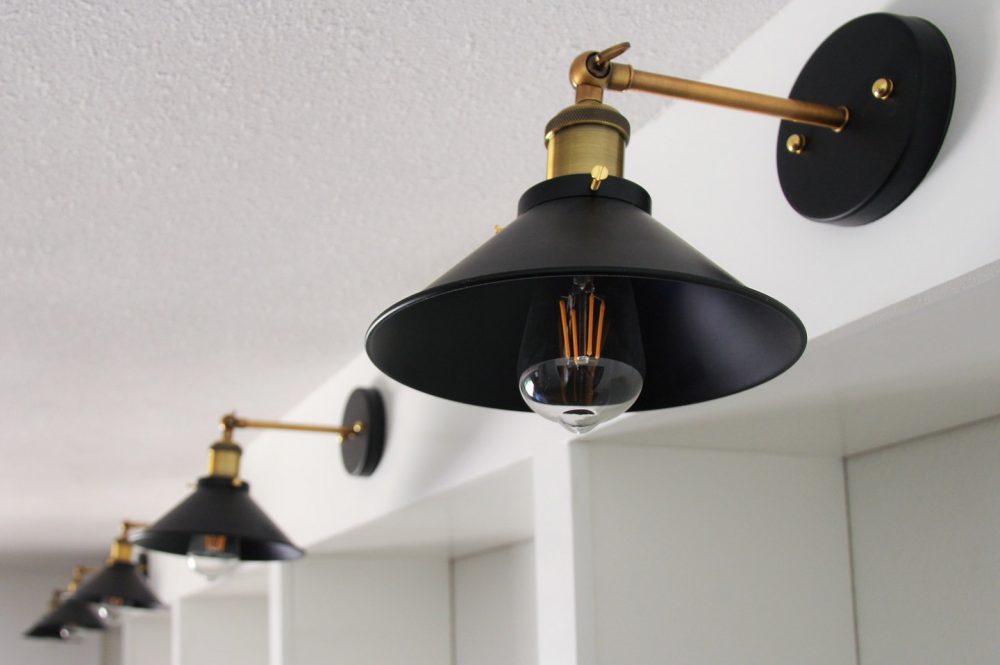 Then we finally finished up the base trim and added the toe kick to the bottom of the base cabinets.
Some people think that organizing books by color is ridiculous. But please note that originally I tried to organize the books primarily by categories and then color. But it just wasn't as cute, OK?!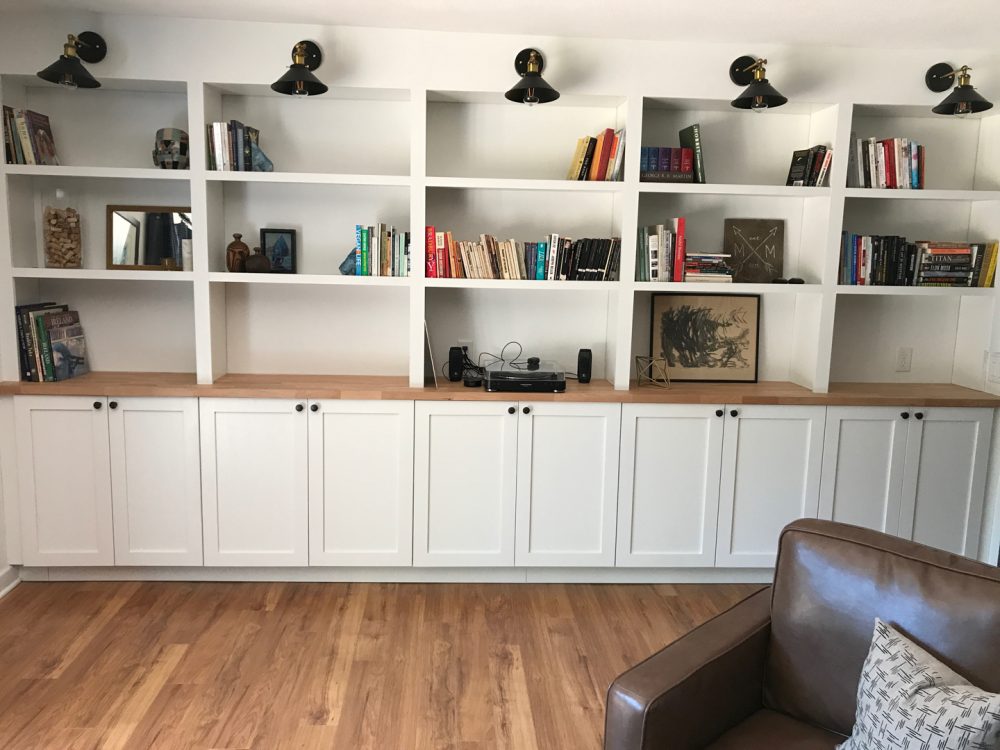 And here we are now!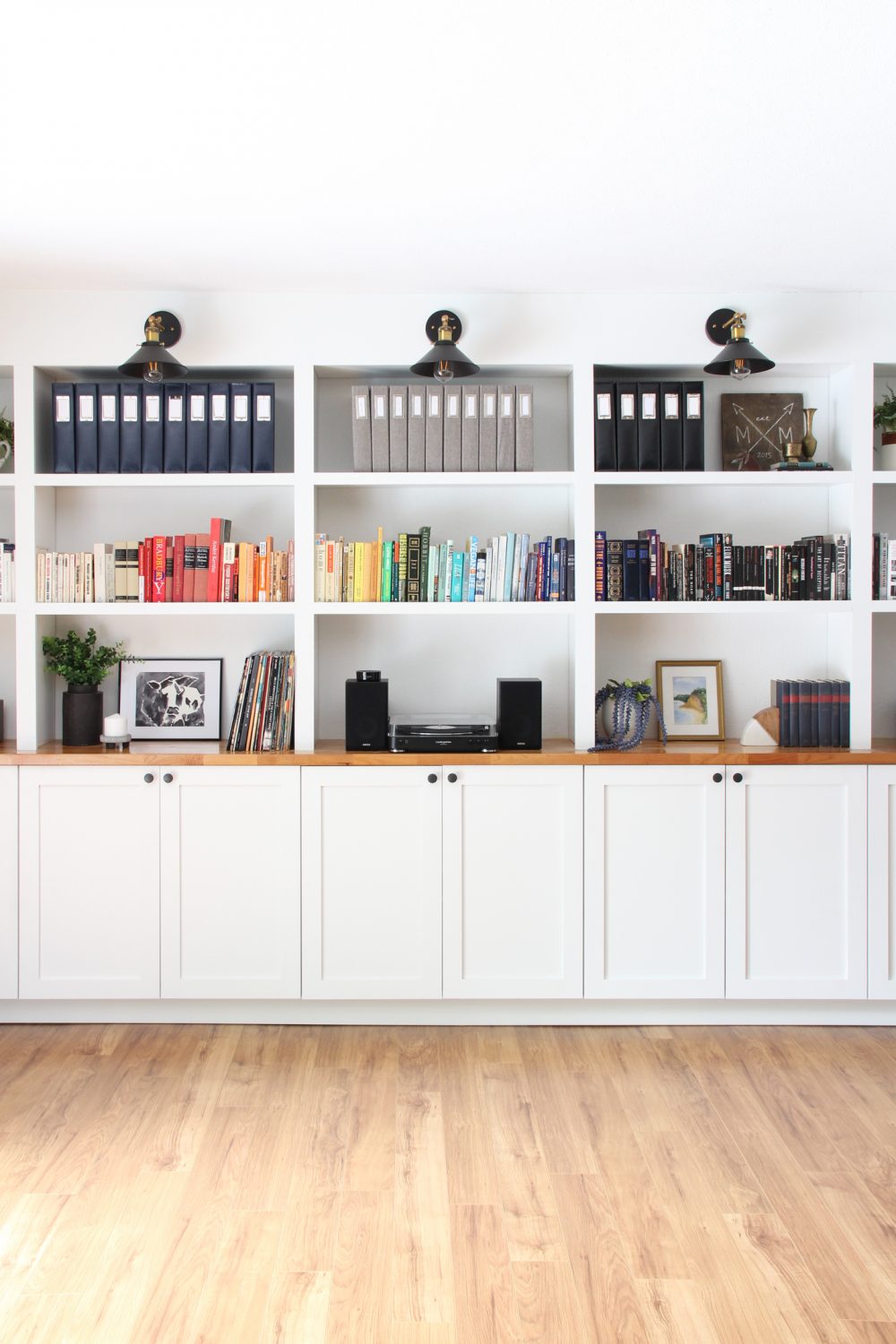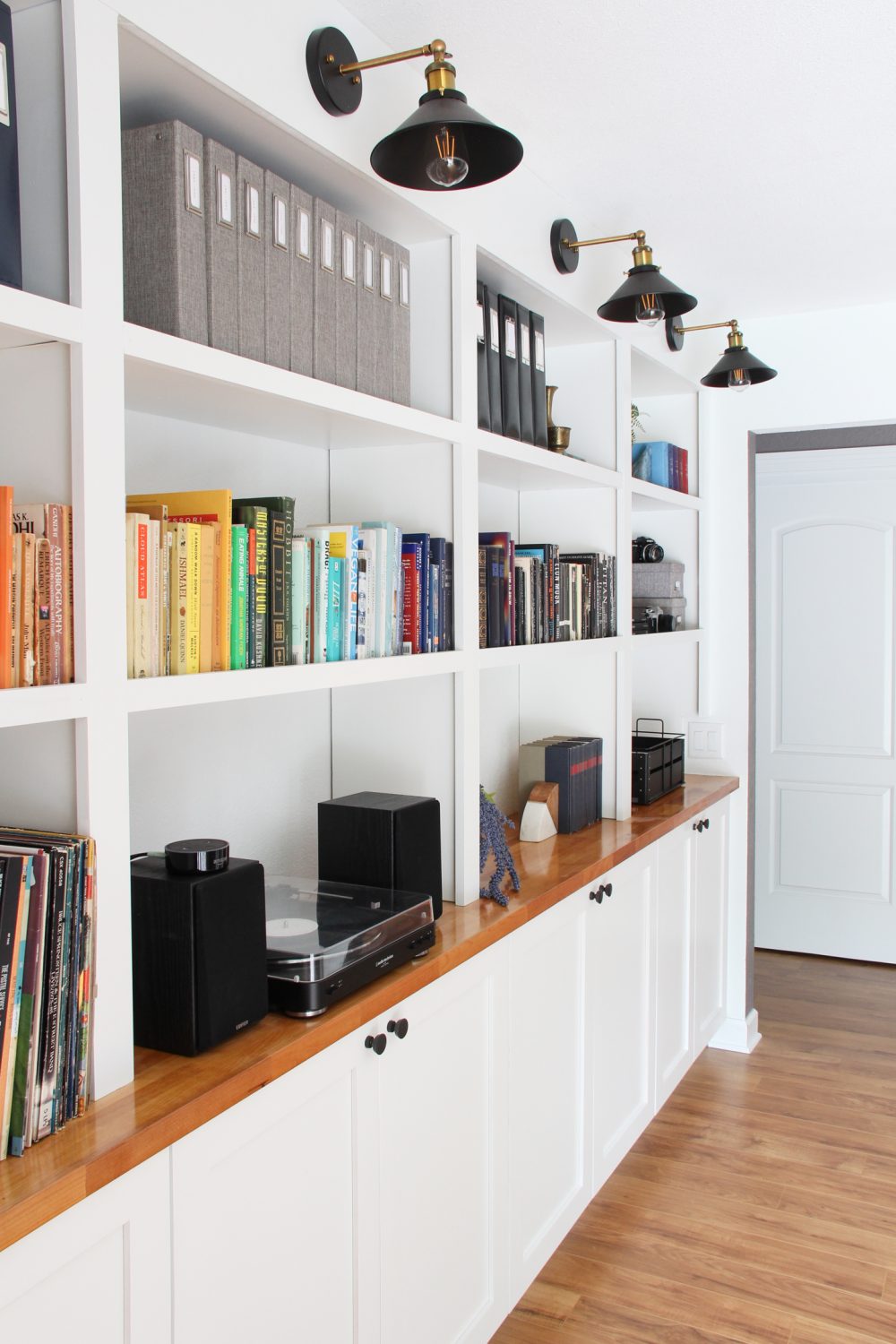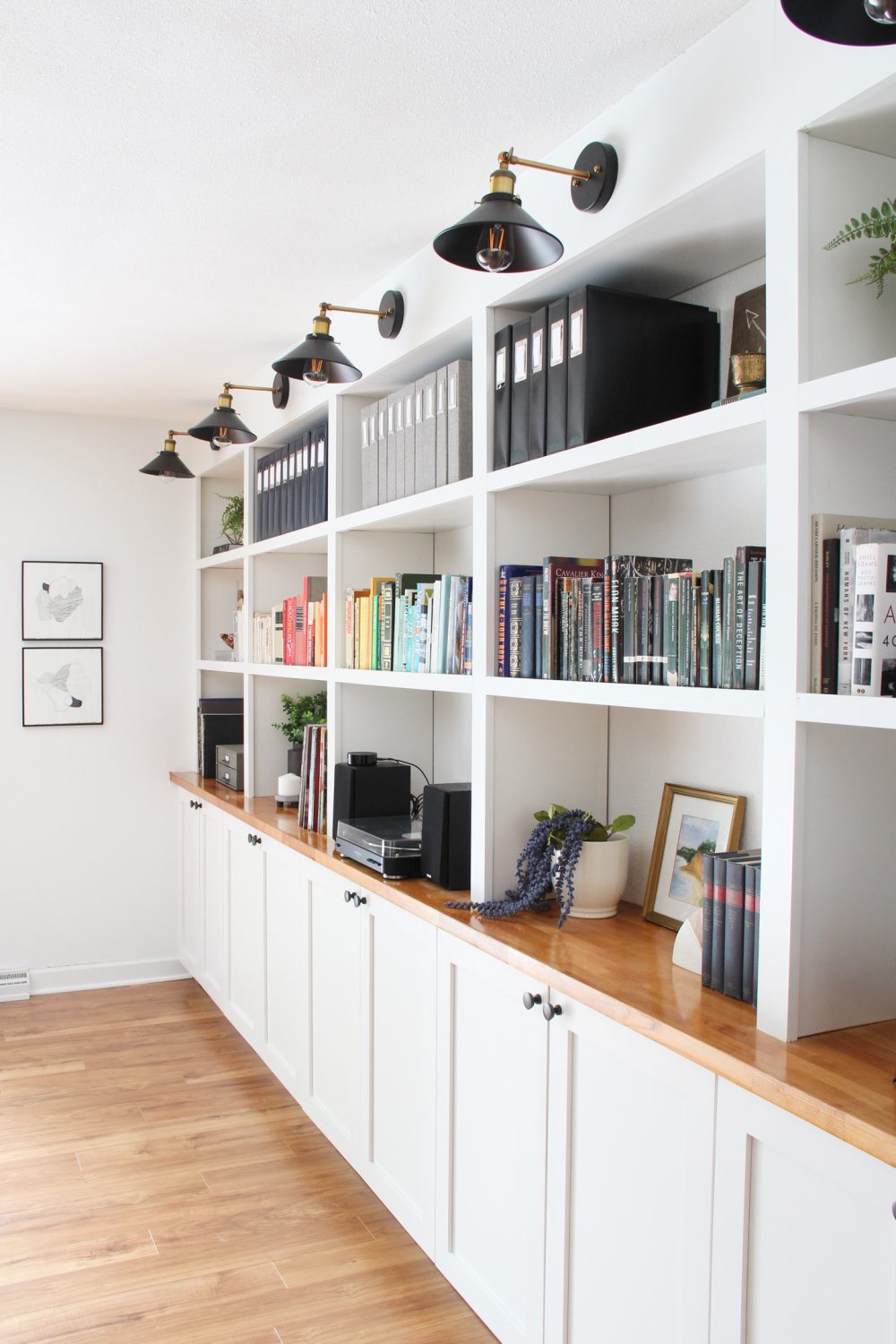 This project turned out so well! I'm so proud of it.
This was also a really good intro for us on how to use IKEA cabinets. We're hoping to do another IKEA project soon in our kitchen/dining area. Not a full kitchen remodel but I would like to add some cabinets for more storage next to our pantry. So stay tuned for that in the following months to come.
And as promised here's a breakdown of our timeline. From beginning to end it took about seven months. But about five of those months was actual construction.
Timeline:
January 2017 – Planning and sketching initial ideas
Early March 2017 – Base cabinets arrive from IKEA
Late March 2017 – Electrical moved, started hanging base cabinets
April 2017 – Painted and installed cabinet doors, started building upper shelving
Late May 2017 – Finished upper shelving
June 2017 – Closing in the header, hanging electrical boxes, installing sconces
July 2017 – Finishing touches, trim, toe kick
If you have any questions please let me know in the comments below!
And a little side by side before and after…
Shopping List
Please note that the shopping list below is what we used for our specific space. Your dimensions will likely differ and you will need to account for that when selecting the size of your cabinets to purchase.
Ikea Cabinets
Cabinet Fronts and Countertop
Wood for Shelving
2″ x 4″ framing lumber
1″ x 12″ poplar boards (for shelves)
1″ x 2″ (for front trim)
1″ x 3″ (for front trim)
Electrical Components
Handy Tools
Miscellaneous Supplies