A few weeks ago I posted about all the projects we accomplished in 2016. Although we didn't get to everything, we are pretty proud of ourselves that we were able to cross a lot of items off our list.
And now, keeping up with the tradition, I thought it would be fun to repeat the process and lay out our plans for this year. Yes, I know I'm a little late on this! I also want to add a few personal goals for myself (just to spice things up and try and hold myself accountable). This should be fun to look back on in a year.
1. Try to keep up with the blog
Blogging in real time has been so difficult! I enjoy posting and sharing the projects that we're doing, but finding the time to set aside to take and edit photos, write the posts, and share everything on social media never seems to happen in real time. I'm going to try to be better about this. In an ideal world I would be posting a least once a week and sharing photos on Instagram every day. But in reality I know that will never happen, especially while I'm taking care of a newborn. But that posting schedule would be my ultimate goal. We'll see how it goes…
2. Get better at interior photography
Right now my least favorite part about blogging is the photography aspect. I love doing projects and getting things done. But taking out the nice camera and documenting the whole process is exhausting. Right now most of my "progress" photos are taken with my iPhone because it's so quick and easy. But I usually try to take "final" photos of projects with my Canon DSLR camera. However, I'm finding that most of the time I go to take photos I end up frustrated at the quality of the images. This also prevents me from sharing them.
This year I want to get better. And I know there are some things that have to happen to get better images.
Don't be lazy – use a tripod
Get more comfortable shooting in manual mode
Get a nicer wide angle lens that works better for interior shots
Set aside more time to set-up equipment, practice, and take 100s of shots
Spend more time editing the images afterward
3. Elliot's nursery
I'm so close to finishing Elliot's room! I've already posted about his changing table that I refinished. Now the room just needs some more art on the walls and then I'll be satisfied enough to post full photos. But is any room ever really "done" done? No… I'm always tweaking.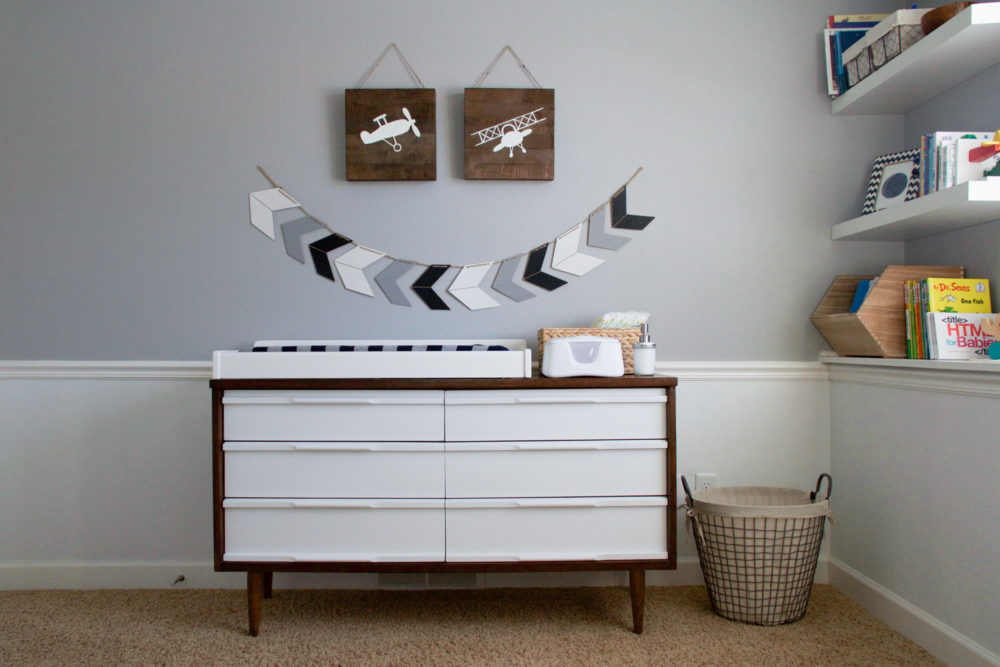 4. Make a work area in garage
This was on the list of things to do last year. And this project is done(ish). The plan was to cut down the top shelf, lower the center shelf to counter height, then install peg board behind to hold tools. It was actually a very quick and Max finished it by himself one weekend. I know, WHAT?! This little improvement makes me very happy because it was cheap to do and makes the garage way more functional. Right now I want to make it look a little prettier and then I'll post some photos of the finished space.

5. Built-in Bookshelves
This is going to be one of the bigger projects that we tackle this year. What I want to do is install built-in shelving along that back wall of the living room. We are in the planning stages right now and trying to figure out all the materials that we will need to complete the project. It's going to be a little complicated because we have some electrical work that needs to be done in conjunction with this project. I would like to raise the outlets to counter height and install lighting above the shelves.We'll need to hire out that part to an electrician because I don't like doing important things like that on our own. Right now I'm pretty set on the layout and excited to get started and purchase the materials. We're just waiting until Ikea has a kitchen event sale! Any time now would be great 🙂

6. Master Bedroom
The master bedroom is livable. But it's pretty plain. We need art and things on the walls. Matching nightstands. Maybe a more modern ceiling fan? Some different bedding? I'd like to decorate this room better and make it more cozy.
7. Living Rooms
Same thing goes for the living rooms in our house (not sure why houses are designed with two?). They're livable. We have some furniture. But it needs the final touches. In the back living room I would really like to paint the fireplace. But that's an on-going battle with Max. He likes that 1970's brick.
8. Dining Room
And… same things goes for the dining room. It needs the final touches. Right now we have a very mid-century table and chairs that I like. I just don't think it goes with the space we have now. Max doesn't want to get rid of it but let's just say I'm keeping my eye out for some other options on Craigslist. Perhaps one that would seat six people.