At the beginning of 2016 we sat down and laid out a lot of the projects that we wanted to accomplish around the house. It was a pretty long, ambitious list. We didn't accomplish everything we set out to do, but we made really good progress. We even ended up adding a very different project to the list towards the end of this year: Elliot's nursery! Full posts on his room are coming soon. I need to add some more art and final details before it's "finished".
After reading our 2016 list a year later I feel great that we accomplished so much. Although, I realize I haven't done a very good job of blogging about all our hard work. I'm going to try to be better about that this year.
Anyway, let's review the old list and see what was actually accomplished!
GARDEN
STATUS: DONE! (maybe)
We finished the garden in the spring and I even blogged about it. Although, I wish I had taken better photos. We loved having a garden and are now we're debating if we want to make it bigger. We'll have to see how ambitious we're feeling in the spring.
REMOVING HALF WALLS
STATUS: GONE!
Knocking down the half walls was not specifically on our to-do list. We decided to take them out before doing the floors because they were really doing us no favors. Max was basically using them as holding space for all his junk. It was also really hard to walk through the rooms and the positioning of the light switches on them made no sense at all. Now that they're gone my only regret is not taking a sledge hammer to them sooner. You can see the full post about those pesky walls here.
INSTALLING LAMINATE FLOORING
STATUS: DONE!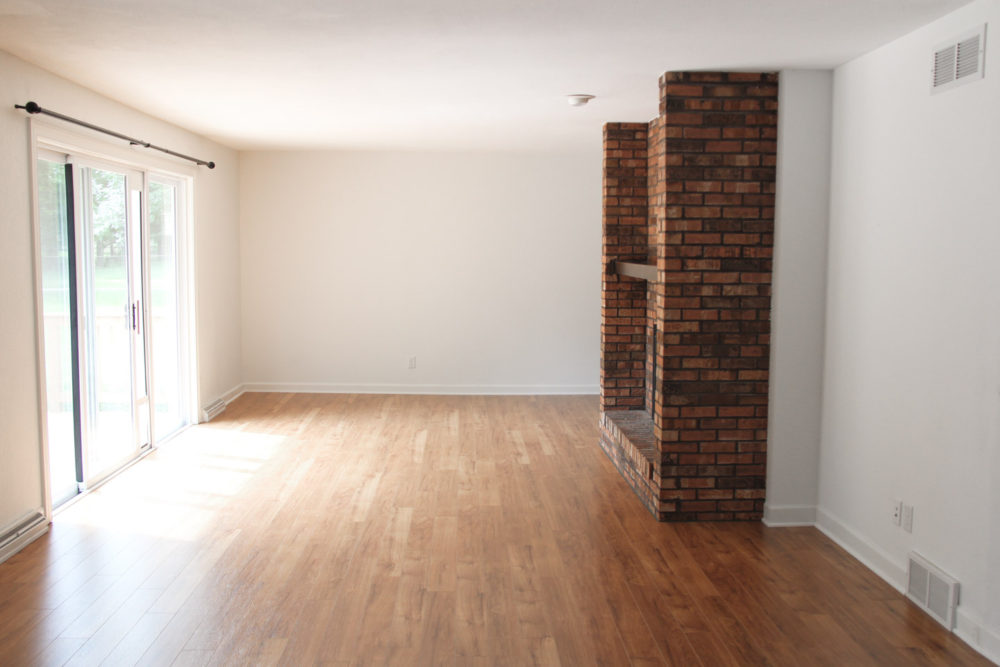 This was at the very end of our list but when we started discussing all the other projects that we wanted to do we realized that we had to bite the bullet and get the floors done first. Basically everything else we wanted to do needs to sit on top of the floors so it just made sense to do this before everything else. We tried to DIY this project at first. But after that didn't go so well we decided to hire a pro. It took forever to find a contractor and a few months to get them out to the house to do the install. But I'm so glad we did it. The carpeting in the house was just awful and having a professional do the floors made them look a lot better than we could have done. You can see the post about our floors here.
BUILT-IN BOOKCASES
STATUS: PLANNING
We are currently in the process of planning our built-in bookcases. We only have about a 17 inch depth to work with which makes finding base cabinets difficult. I think we're going to have to go with 15 inch Ikea base cabinets on the bottom for this project. But right now we're waiting until there's a kitchen sale to make that purchase.
MASTER CLOSET
STATUS: DONE!
After the floors were down we could finish installing the closet. I'm very happy with how it turned out. It fits all of our things perfectly. I guess that's because we designed it that way (haha!). What I love most about renovating is doing projects like this that make our spaces work for us. You can see our master closet posts here (part 1) and here (part 2).
BASEMENT – TV PROJECTION AREA
STATUS: ALMOST DONE
Like I mentioned before we miraculously got a huge couch into the basement and later in the year I found a coffee table to refinish as well as a vintage side table. Max also set up his projection and sound system. But… it is not very pretty to look at. Cords are everywhere and he has found that the best way to prop up his projector is to use old Amazon boxes. Ugh! It makes me crazy so I try not to go down there very often. I've been leaving the basement his domain.
BASEMENT – BAR AREA
STATUS: ALMOST DONE
We added shelving to the cutout area. Max found a mini-fridge that would fit behind the bar. And I found four barstools on Craigslist that I would like to eventually refinish. The kegging system project was put on hold since I was pregnant for most of last year and consuming beer was obviously not one of my priorities.
GARAGE WORK AREA
STATUS: IN PROGRESS
We just started working on this area about a week ago. Max cut down the top shelf and lowered the middle shelf to counter height. I think we'll eventually get some peg board to add behind to organize all the tools. Stay tuned.
KITCHEN
STATUS: GOOD ENOUGH FOR NOW
Right after Elliot was born my parents stopped by the house and my dad installed a new, clean stainless steel sink for us. The old one was stained and pretty disgusting. We've decided to wait on the countertops and backsplash. I really don't want to put expensive countertops on the old, refaced, and repainted cabinets. The kitchen is good enough for now.