I'm baaaaaack!
And I must say, I've missed all these one sided conversations with you all. But you see, we've been a little busy lately. Because…
OMG WE

FINALLY

BOUGHT A HOUSE!
It only took about 2 years.
These past few months we've been super busy knocking out tons and tons of projects, so I haven't been blogging as much. But don't worry, I will be sharing a lot of our recent projects with you all very soon!
For now I wanted to give you all a little "before" preview of the house to show you what things looked like before we moved in. And I also wanted to tell you about some of our plans for the new space.
Of course I forgot to take photos once everything was cleared out of the house. This is this best I could do for now – MLS photos to the rescue!
The House!
It's funny because when we were looking for houses Max said he hated ranches and didn't want one. And now look what we ended up with! When you guys see the basement you'll know why he was sold. But here's the front of the house. And what do you know, it's a ranch! We probably won't change much on the front of the house right away. We mostly just want to do a little landscaping. But I'm thinking I might want to eventually paint the front door a fun color.
Front Living Room
This is the room immediately to the left when you walk in the house. It's got nice big windows looking outside. Henry loves them and go nuts watching the squirrels and rabbits outside every morning.
The previous owners used this space as a playroom. But we decided we're going to make this our main living room area for our TV. We're not in love with the beige everywhere in the house so we're going to paint this room and hopefully replace the carpet throughout the house in the next few years to either laminate or hardwood.
Back Living Room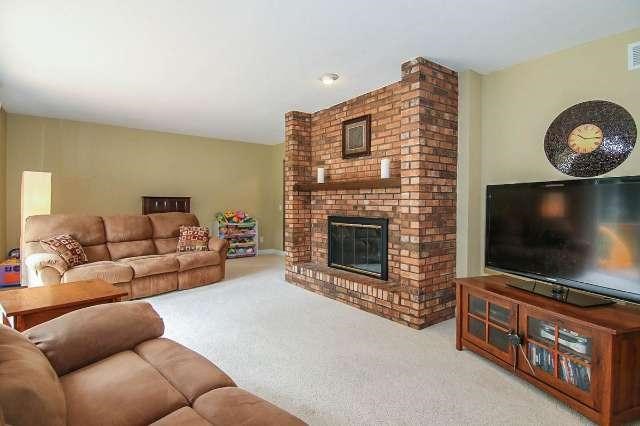 The configuration of this room is super difficult because of the fireplace. The previous owners used this space as their TV room. We tried to make it work like they had it set up here but Max's TV was just way too monstrous for that little corner. So that's why we decided to put the TV in the front living space instead.
Since the fireplace is in this room I think we're going to make this more of a "chill" room for sitting by fire. Max wants to get a record player for in here and I would like to put some bookshelves in along the back wall (not shown) to make it feel more like a library room.
We're definitely going to paint the room. And I would also like to paint the fireplace (Max is soooo against that). And we'll also be putting in a doggie door for Henry to easily go in/outside. And maybe we'll also get some new kind on window treatments? Everyone uses these kinds of blinds near their sliding doors but they're soooo annoying and not that attractive. There has to be better options out there, right?!
Kitchen
Ahhh… the kitchen. The cabinets are actually in decent shape. Underneath they are the original ones from the 70's. Some paperwork we got from the previous owners had documentation that they had been refaced with with this maple look about 10-ish years ago. We're both not in love with the color so we're going to paint the cabinets white as well as the walls. I would also like to eventually replace the countertops, add a new sink, put in a backsplash and add new appliances. The current stove is electric and Max really likes to homebrew so gas would be much better for that.
Dining Area
Here's the dining area immediately off the kitchen. In this space we'll put in some different drapes, paint, and replace the light fixture. I don't necessarily mind the half wall partition thing separating the space. But it does kind of make me wonder what it looked like when the house was originally built. Was there a full wall there?! And did a previous owner knock it down to get a 1/2 open concept look?
Master Bedroom
Like all the other rooms we're going to paint and eventually replace the carpet. The little white door on the left is a walk in closet that we'd also like to re-do. The shelving appears to be original and doesn't really maximize space in the best way possible. We may also replace the ceiling fan.
Master Bathroom
Holy beige tile! I don't even know what to do about this. It looks like someone went through a lot of trouble to retile this shower and it's still in good shape. But it's not necessarily our style. We'll definitely paint the walls, paint the oak cabinet, and add some shelving above the toilet. And then we'll reassess from there.
Hall Bathroom
This is the main hall bath and of course there's more beige! For now I think we'll paint the walls, paint the mirror, paint the cabinet, replace the cabinet hardware, and replace the light fixture. Right now there is a fiberglass shower/tub and I think it would be amazing to re-tile with white subway tile. And of course eventually I'd like to replace the countertops and floors to something not beige.
Melissa's Office
This room's going to be my very own office/studio/craft room! Yay!!! In here I obviously want to paint the beige away and replace the carpet. Then it's really all about arranging furniture and desk space. Right now I'm not really sure how I want to arrange everything but I'd like to be able to keep my sewing machine out, have a space for jewelry making, and a desk with my computer.
Guest Bedroom
Max calls this the Neapolitan room and now every time I look at it I think about ice cream. Since we have so many other projects going on this one is kind of last on the list. Right now it's holding all the "bonus" furniture. But we'd like to make it a guest room eventually.
Basement
And now here's the reason Max said "yes" to a ranch! It's basically the ultimate man cave down here. Where this pool table is is actually where the largest non-window well wall is in the basement. Max would like to make this the TV area and put up a projector system. I'm not sure what we'll do about the other sitting area though. And come on, that bar is amazing! We're pretty excited about this downstairs space.
Max's Office
This is the only room in the house that we decided we wouldn't paint. It's just a simple white and gray and is perfect for Max's office. He's going to put in a desk and would like to have a sitting/reading area with some floating bookshelves.
Basement Bath
We're not sure what we want to do with this room. Everything kind of goes with the whole man cave feel of the basement. So maybe we'll just paint. I dunno?!
Backyard
I'm sooooo excited about this backyard. And so is Henry! When we bought the house the fence was already about 2/3 of the way finished – thanks neighbors! We're going to finish off the fencing so our little guy can play outside. Then I'd really like to put in a garden next to the shed. And maybe get some benches or some kind of seating area for around the fire pit. But since winter is coming, the backyard has also been one of the last items on our list. We'll probably wait to tackle more of this in the Spring.
Hope this gives everyone a little insight into what we've been up to lately and a quick "before" preview of our new home. Stay tuned for more posts with our renovation updates!